10 Crazy Bar Themes in America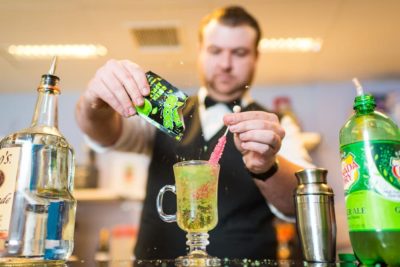 10. Sister Louisa's Church of the Living Room and Ping Pong Emporium
Try saying that ten times fast! This bar is a church themed art gallery that has a bit of whimsical and eclectic humor. Located in Atlanta, this was designed around a faux tale of a runaway nun in a sports bar. Of course, there would be no Ping-Pong emporium without a Ping-Pong table, now would it? All of the weird art on the walls are available for purchase.
9. The Handlebar
This bars theme is a play on words for facial hair, not a bicycle. If you're a hipster that loves grabbing a beer or you're a big burly lumberjack, this bar is dedicated to you. If you're a lady or a man who can't grow facial hair, there's a "pick-a-mustache" booth specifically for you. You can also play drunken Jenga. Lets just say that I know where I'm going for my birthday! This bar is located on East Street in Austin.
8. Frost Ice Bar
No, this isn't modeled after Elsa in Frozen, this year round Ice Bar is located in Boston, Massachusetts in Faneuil Hall Square. This bar is kept at a cool 21 degrees Fahrenheit year round. This is definitely perfect for the summer. There are ice sculptures and furniture all over the place! If you're under 21, you can enjoy this cool and icy facility until 5pm, and then you gotta go!
7. Mutts Canine Cantina
If you love your dog and you promised your wife you were taking him on a run, this Dallas bar is perfect for you. Equipped with a dog park and beer garden with an extensive bar, technically, you're not lying! There are a ton of guys (and ladies) that come here with their pooches and have a drink or two. After all, who wouldn't want their best friend as a wingman?
6. The Cruise Room Bar
If you're aiming for a classier bar, then you may want to check out this cruise ship themed bar in Denver, Colorado. If you're visiting and at the Oxford Hotel, that's where you'll find this bar! It's actually modeled after the famous Queen Mary and equipped with a free, old-fashioned jukebox.
5. The Wreck Bar
Of course this bar is located in sunny Florida. This mermaid themed bar is in the aquarium of the Sheraton Fort Lauderdale Beach Hotel. Outside of your windows is actually the aquarium where you can see underwater shows of actresses playing as mermaids. Get drunk and have a story to tell! But be forewarned, your friends who weren't there might not believe you!
4. Donny Dirk's Zombie Den
If you're a fan of Shaun of the Dead, this is the perfect drinking lounge for you. Located in Minneapolis and inspired by a zombie apocalypse, this bar was created by the genius behind Psycho Suzi's Motor Lounge and Saint Sabrina's. With a ton of infused drinks and great deals, we only ask that you don't bring in actual weapons. There are no real zombies. It's okay, we're sad too.
3. The Way Station
This one is for all of the Whovians. This Dr. Who and steampunk themed bar is heaven for lovers of the show. You can also watch premieres and Dr. Who inspired bands here. Each drink is named after something special in the show such as the Sonic Screwdriver, the Captain Jack Harness and the bathroom is a Tardis. How cool is this?! Of course, the bathroom is bigger when you get in. Meet your potential Dr. Who loving best friend here in Brooklyn, New York. Source : Statusnmessages.com
2. Unicorn
For all you kawaii fans and lover of things pastel, this Seattle bar is your dream place. Somewhat circus inspired and mythical creature inspired, this gorgeous bar features animal heads on the walls, circus-esque blue striped wallpaper, whimsical decorations and of course, carnival food. Some of these junk foods include deep-fried Twinkies, corn dogs and FREE cotton candy. Who says you have to be an adult when drinking? There's even an alcoholic beverage called Unicorn Tears.
1. Thomas Foolery
Located in Washington, D.C., This 1980's game bar features 3 dozen+ types of bear, nostalgic games and even fun ways to get a discount on your drinks. If you dance like Carlton from Fresh Prince of Bel-Air or perform the running man, you will automatically receive a discount of 10% on your order. How fun is that?!
Date Modified - 07/22/2019