10 Disney Wedding Cakes That Will Blow Your Mind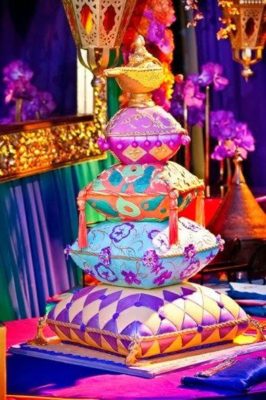 10. Aladdin Wedding Cake
This awesome and colorful wedding cake looks realistic, soft, fluffy and of course delicious. It looks like you could bite into it and take a taste of clouds. We hope this wedding's Aladdin and Jasmine had a wonderful time and we hope the cake was great.
9. Traditional Styled Disney Cake
This traditional styled Disney cake is based off of the castle we all know and love so much, but has normal traditional tiers, with elaborate and gorgeously colored roses and pearl adornments. While keeping traditional touches, they combine Disney and classic beauty in a stunning way.
8. Cinderella Fairytale Cake
One of many gorgeous Cinderella inspired cakes around the web. While this cake is youthful, it's still gorgeous, clean and elegant. Without spelling anything out, you can tell what it's inspired from while showing that it's a tiered wedding cake. We hope the bride and groom feel as if they found each other in royal companionship.
7. Wall-E Wedding
This one is a bit more funky and inspired by Disney's Wall-E. While I think this appears more youthful, if you look at the tiers and the companion characters on top, you can tell this was a super fun couple who didn't want to take the traditional route.
6. Beauty and the Elegant Beast
Using elegance and traditional style décor on their cake, they channeled Beauty and the Beas tin a super awesome way that doesn't necessarily spell out "CHILDRE'S MOVIE" in huge letters on the cake. This stunning cake is magical.
5. The Sword and the Stone Wedding Cake
0
This isn't your traditional wedding cake style but we can see how a man could be seen as Arthur trying to get the sword out of the stone (finding his counterpart for life). It's a cute, unique idea that was done in a cool way.
4. Ariel and Prince Eric
2
This adorable and colorful The Little Mermaid wedding cake definitely has bits of traditional while still remaining true to a young vibe. With the apparent look of Ariel and Prince Eric as the cake topper, this not only is adorable but looks yummy!
3. Traditional Bride and Groom Cakes
4
This more traditional and iconic looking wedding cake can serve as mini cakes for the guests. With a Minnie on top for the groom's friends and others with Minnie hats for the bride's friends and family, these cakes are simple, adorable and look absolutely yummy!
2. Disney Scriptures Projections
6
This is the first of two awesome cakes on our list. This cake combines technology with deliciousness. Using a projector, Disney scriptures are projected in a lime green magical color against the shimmery fondant of the wedding cake. It's very simple, eye-grabbing and definitely a memorable cake with a touch of class!
 1. Projection Light Show Wedding Cake
8
This is the ultimate wedding cake no matter who you are. This Disney cake uses a projection to create a lightshow against the shimmery white cake adorned with a traditional white Disney castle on top. Swans and magic wrapping all the way up to the carriage, this is meant for any pair of Disney crazy lovebirds.
Date Modified - 10/27/2018