12 Things You Didn't Know About Five Guys
1. The Five Guys were originally Jerry Murrell and his four sons.
Jerry Murrell is the founder of Five Guys.
The restaurant was named after he and his four sons.
Soon after, a fifth son was born and the name now refers to the five sons: Jim, Matt, Chad, Ben, and Tyler.
2. Jerry Murrell gave his sons the option to either go to college or to help him start a business.
The two oldest sons were the ones who were given this option.
The boys decided that college was not for them, so they decided to help their father with the business.
Jerry and Janie Murrell used the money they had saved for college tuition to invest in a hamburger shop instead.
3. The first Five Guys restaurant opened in 1986.
It was a small shop located in Arlington, VA.
Murrell and his family opened it for a little less than $70,000.
4. In the early days,
the Murrells tested out Five Guys coffee.

It did not work out and they took it off the menu.
Jerry Murrell said, "Kids just don't know how to do coffee right."
Today, many people are trying to get coffee back on the menu, by Murrell refuses to add it.
5. Five Guys' director of franchising is Mark Moseley.
He is a former Washington Redskins kicker.
Moseley had his own burger shop at one point and wanted to franchise, but then his partner sold it.
When he met the Murrells in 2002, he asked them about franchising together, and everyone in the family was in favor of it.
6. Five Guys has some unique and specific kitchen rules.
French fries must be shaken 15 times exactly, onion and bacon go below the patty, pickles an tomatoes go above the patty, and no timers are allowed.
That last rule is in place because Jerry Murrell believes that a good cook knows when the food is done.
7. There are over 250,000 possible ways to order a burger at Five Guys
.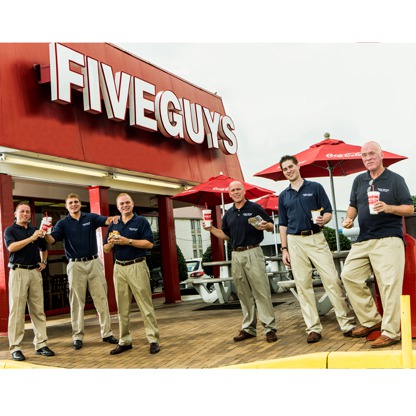 0
This number has been published by Five Guys.
With all the possible topping combinations, the number seems realistic.
8. Each son has a specific role in the business.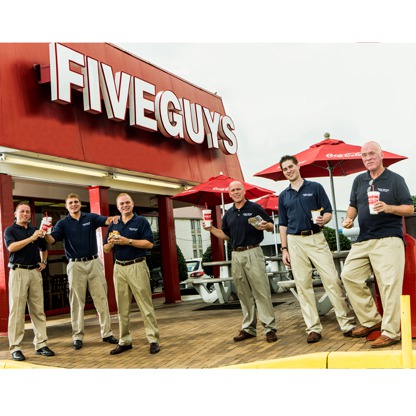 2
Jim helps manage the entire operation, Matt opens new sites, Chad does the manager training, Ben is the IT guy, and Tyler oversees the bakeries that provide the Five Guys buns.
The 7 family members own equal shares in the company which combine to about 75%.
Miller Investments owns 20% of the company, and a few friends of the Murrells own the other 5%.
9. Murrell is very stern about keeping the current menu.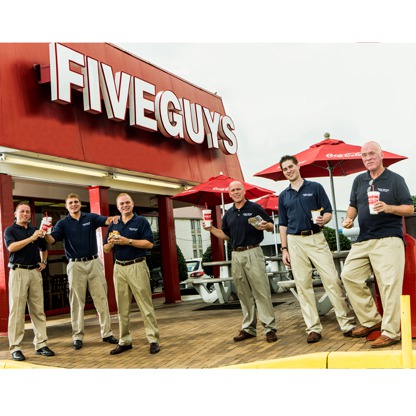 4
The Murrells refuse to add milkshakes to the menu, despite much encouragement.
Murrell faces problems with his franchisees when they attempt to get him to add items to the menu.
10. The Murrells started offering franchising opportunities in 2003.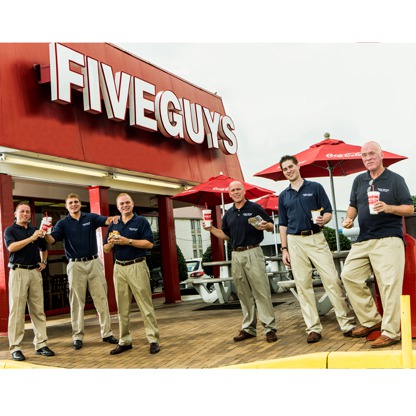 6
In 18 months, Five Guys Enterprises sold over 300 units.
Murrell looks for a franchisee to have a net worth of at least $1.5 million and liquidity of $500,000.
The average Five Guys franchisee has 10 to 15 restaurants.
11. As of 2012, Five Guys was the fastest growing fast food chain in the country.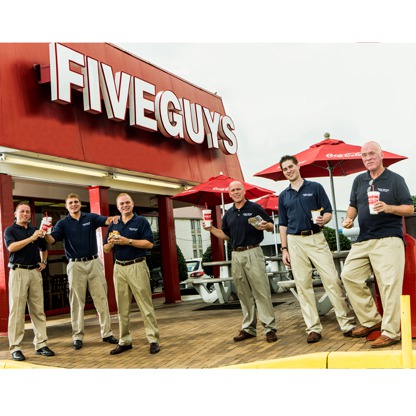 8
The number of stores went from 5 to over 1,000 in approximately ten years.
More than 1,500 locations are in development.
Murrell is also expanding overseas and plans to open 200 to 300 stores in Great Britain.
12. Five Guys' revenue went up by over $200 million within one year.
0
Five Guys revenue in 2010 was $720 million and increased to $976 million in 2011.
Five Guys continues to expand every day. Over 20 years after Five Guys first opened, there are over 1,000 locations nationwide. The restaurants are located in 47 states and 6 Canadian provinces. The chain continues to receive good reviews by critics around the world. Its mission statement is simple: "We are in the business of selling burgers."
Date Modified - 10/03/2018