16 Things You Didn't Know About Taco Bell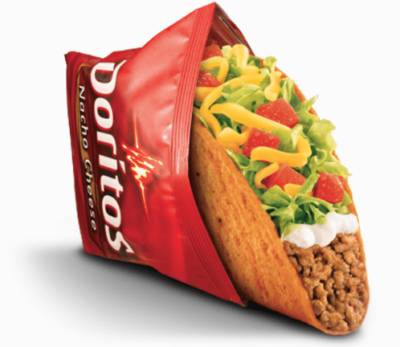 Let's start from the beginning:
1. Taco Bell Opened Their First Location After Founder Glen Bell Stole His Sister's Fridge
Like millions of returning World War II veterans, Glen Bell did not know what to do after getting back from the war. After a few months of thought, he decided to turn his love of hotdogs into a full-throttle career and opened his first location in 1948, which was then called Bell's Drive-In.
His sister was not happy with his decision to take her fridge, but we're pretty sure she's got over it when the millions started flowing in.
2. Bell served hamburgers, hot dogs and even personally developed a chili dog sauce, that would later become Taco Bell's taco sauce.
3. Bell didn't venture into the Tex-Mex business until 1954 with a taco stand called "Taco-Tia".
In order to promote Taco-Tia he would drive around in an old bread truck handing out sombreros, he also hired Mariachi bands to create fiestas outside the restaurant.
4. Back in the days of Taco-Tia you could have gotten a taco for nineteen cents.
Selling at that price Taco-Tia grossed eighteen thousand dollars in their first month. You could said it was a big hit. You can learn more about Taco Bell prices before you head in for lunch or dinner.
5. Taco Bell was the first chain to hire women managers to run their stores.
According to John Gorman, Taco Bell's first Director of Operations:  "There weren't enough managers to go around (and) they were all men." As John remembers it, Taco Bell was"the first chain to hire women managers to run the stores."
Girl power! Hillary would be proud.
6. In 2012 when Taco Bell introduced the Doritos Loco Taco it was such a big hit it's estimated to have created 15,000 new jobs.
Taco Bell estimated that they had to hire two to three new employees per store to keep up with the Doritos Loco demand. They sold 500 million Doritos Locos tacos within the first 14 months of their introduction.  If you break that down it's about 35,714,286 tacos a month, 1,190,477 tacos a day, or 49,604 tacos an hour. Now that's a lot of tacos.
7. The Doritos Loco Taco Prototypes started out with spray guns from The Home Depot
In 2009 Taco Bell set out to reinvent the traditional crunchy taco. In partnership with Frito Lay, the makers of doritos, they came up with the concept of Doritos tacos. The next task was to make them, that's where spray guns came into the picture "basically went out to Home Depot to buy a paint-spray gun, and then sprayed [Doritos] flavoring onto our existing yellow corn tacos," The initial prototypes didn't impress consumers during taste tests but over the next 3 years they nailed down the perfect recipe.
8. "Yo Quiero Taco Bell"
0
The Taco Bell Chihuahua, Gidget,  was originally cast as the lead chihuahua's girlfriend but was selected to play the starring role at the last minute the day of the shoot.
Taco Bell wasn't Gidget's only gig, she also played Bruiser's mom in Legally Blonde 2. Unfortunately she passed away in 2009, she'll be remembered forever with the millions of stuffed Taco Bell "free taco" chihuahuas in circulation.
2
9. 50 cent is not a fan of Taco Bell
4
Remember Taco Bell's 2008 national campaign, when they joked that 50 Cent should change his name to "79 Cent," "89 Cent" or "99 Cent"? He wasn't down for the name change and took them to court, seeking 4 million in damages. Taco Bell and 50 Cent settled out of court, none of the settlement details were released. "As is often the case in these situations, the parties have agreed not to discuss anything about the settlement except to say both sides are satisfied," said Peter Raymond, 50 Cent's lawyer.
10. At one point Taco Bell sold cinnamon tortilla chips
6
Taco Bell used to sell Cinnamon Crispas, basically sugar cinnamon dusted tortilla chips. Hopefully they came with a side of frosting for dipping.
Along with Cinnamon Crispas there's a solid list of fan food that has been sent to the Taco Bell graveyard:
8
Taco Bell's Bell Beefer- Taco Bell's take on a sloppy joe, which consisted of putting some taco meat on a bun. This item was not such a big hit, which encouraged Taco Bell to "think outside the bun".
0
Seafood Salad- This one is pretty self explanitory but just in case, here's a sweet commerical from the 80s
2
Blackjack Taco- Basically the same as the standard crunchy taco except the shell is black and there's some pepper jack cheese on it.
11. Frozen waffles + chalupa deep fryer = Taco Bell Breakfast
4
Well not quite. This is how the story goes; one morning while Heather Mottershaw, director for product development at Taco Bell, was scrolling through her newsfeed she saw a mock up of a waffle-taco. Inspiration struck, she went to the store and picked up some frozen waffles and started to play with them in the chalupa baskets and viola Taco Bell's Breakfast was on its way.
12. Taco Bell Breakfast or Justin Bieber, you can only pick one.
6
When Taco Bell's president was asked during a live Reddit interview when Taco Bell breakfast would come to Canada he responded simply with "When you take Just Bieber back". At least they'll have plenty of maple syrup to drown their waffles-tacos in when Taco Bell breakfast makes it there.
This is still a sore subject for Beliebers everywhere.
13. All of the USA almost got a free taco, almost.
8
In 2001 as the Mir Space Station made its descent back to earth Taco Bell placed a large target in the South Pacific, with a "free tacos here" label. If the station hit the target Taco Bell promised every American a free taco. Too bad the station missed, but Taco Bell got some great advertisement of of it.
14. Taco Bell is really trying to stay hip with the "20 somethings"
0
In January 2014 Taco Bell pulled kids' meals from their menu because kids' aren't in their target market, which consist of 20 and 30 year olds. Kids' meals just don't fit their brand image. Since kids' meals account for less than one percent of Taco Bell's annual sales this was a smart move.
15. Taco Bell is planning on opening a new American-style restaurant summer of 2014 called U.S. Taco Co.
2
The restaurant's goal is to attract foodies who normally wouldn't go for fast food. The menu features items such as; tacos with lobster, cabbage slaw, and pico de gallo on their "One Percenter" taco and the "Brotherly Love" taco based off the Philly cheesesteak. With tacos starting at four dollars a piece, they've set the bar pretty high considering you can get a Doritos Loco for less than two dollars. The first of the U.S Taco Co chain is set to open in Huntington Beach, California.
16. Taco Bell is working on the perfect recipe for a beer milkshake
4
The beer milkshake is a hopeful of the new U.S. Taco Co menu. Taco Bell's team is still testing prototypes, one taste tester said "The frosty, boozy beverage has a real tequila kick."
The only hold up on the beer-shakes is a liquor license.
On that note… "Do you wanna do something fun? Wanna go to Taco Bell?"
Date Modified - 12/01/2018