4 Drinks From The Starbucks Secret Menu That You Need To Try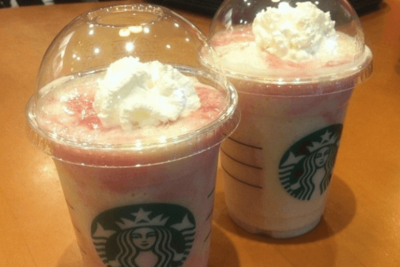 If you haven't tried the Starbucks secret menu already, you should check it out.
Here are 4 must-try items that you can enjoy today.
1. Red Tuxedo Frappe
Doesn't this sound delicious? This frappe is made up of half white chocolate/mocha Frappuccino, raspberry syrup with whipped cream mixed in AND on top. You might want to save this for special occasions like your birthday because of how sweet it is!
2. Cookies and Cream Oreo Frappe
We don't care how old you are, this drink is fantastic for anyone. When ordering, you want to make sure you say the "double chocolate chip" but ask for the white mocha instead of regular. You can also drizzle chocolate or whipped cream on it – maybe even both!
3. Cotton Candy Frappe
Need a good spring drink or a drink after the carnival? Try this cotton candy frappe and you'll fall in love. Made with vanilla bean and a pump of raspberry syrup, you can have this delectably sweet drink that's perfect for the spring and summer.
4. Ferraro Rocher Frappe
 
You may have heard of Ferraro Rocher on our website from previous chocolate posts, but if you've had the chance to try some since then, just think about how good it tastes in a Starbucks drink. Not only is there chocolae, but there are also nuts. If you're not into the nut business there is a hazelnut syrup substitute – no chunks in there! Ask for a double chocolate chip frappe and ask to add mocha and the syrup we mentioned. You can drizzle it in anything your heart desires including globs of whipped cream!
Date Modified - 10/09/2018