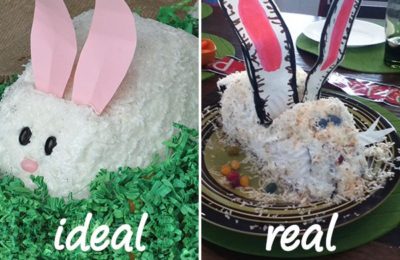 We could give you some great and amazing Easter cake designs, but we thought we'd have a bit more fun and show you some Easter fails. Who doesn't like looking at train wrecks, right?
 1. Lowered Expectations
You tried – that's all that matters. To be honest, we're not really sure how the ears stayed up in the original photo, but then again it's a professional shoot where there are probably 4 tiny little hands holding everything up in the back. Damn you, media for perpetuating your image of perfect onto poor edible rabbits!
2. Are you a fan of horror movies?
This adorable and seemingly delicious treat quickly turned from the Easter bunny into Frank from Donnie Darko. 10/10 would recommend eating while watching Jake Gyllenhaal's fantastic performance.
 3. Coco-not
The idea is cute, but I think you're supposed to put the coconut shavings on AFTER the cake has cooled down. Not sure how they became dyed brown and not so sure if I want to know. We're going to title this one, "Mondays". It's just a day that doesn't really work out for anyone.
 4. Pipe Dream
A lot of people try to find suitable substitutes for their creations, but pipe cleaners are not expensive and they do the trick. Licorice – not that bendable and coconut shavings work great for texture. We're not really sure how this became messed up!
 5. Cake poop
We've seen many cake pop fails and I'll say the same thing every time: fondant is your best friend. If you've ever wondered how people get their textures so smooth, it's because of that little culprit: fondant. This could also be dipped in a yellow colored hardened white chocolate shell, too! The possibilities are endless when you stop using Rice Krispie treats for texture.
Date Modified - 04/11/2019