8 Cupcakes That Will Get You Drunk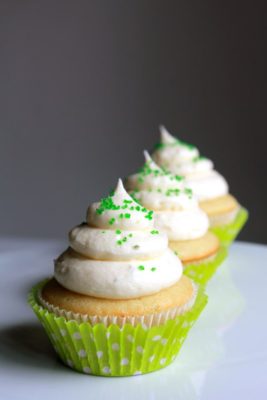 8. Gin and Tonic Cupcakes
These delicious looking cupcakes and amazingly fluffy frosting will make you surprisingly drunk! The recipe for these alcoholic cupcakes can be found here. Because who doesn't want to eat fatty foods and get drunk like a real adult?!
7. Chocolate Guinness Cupcakes & Bailey's Cream Cheese Icing
Okay, so you may be Irish and you may love sweets, so this is perfect for you! This creation was brought to you by blogger, The Baker Chick. This light and fluffy chocolate cake may not be so easy on your tummy! Not for the lightweights. The recipe can be found here.
6. Spiced Rum and Raisin Cupcakes
Captain Jack Sparrow might prefer these on his birthday. These raisin-topped cupcakes are created with rum in its recipe. You can find the recipe for this dangerously delicious treat here.
5. Margarita Cupcakes with Lime Cream Cheese Icing
As they say "one shot, two shot, three shot, FLOOR!" You may want to replace shot with cupcake. Once you get a taste of this sugary rush, you'll be too drunk to remember there's alcohol inside. Check out the full recipe for this crazy treat here.
4. Hard Cider Cupcakes with Whiskey Buttercream
You may all want to dump your keys in a safe, because you WON'T be driving after one of these! These cinnamon spiced cupcakes are filled with hard cider / whiskey caramel apples and adorned with whiskey buttercream frosting. You can obviously make these kid friendly, but let's keep this delicious secret between the adults. Check it out here.
3. White Russian Cupcakes
0
This sounds just as dangerous as it is delicious. Baked Perfection has given the world of the Internet a look inside these deadly cupcakes. You can check out the full recipe here. Made with Kahlua alcohol and is great for the buttercream frosting as well!
2. Dark Chocolate Whiskey Cupcakes
2
Oh no. That's all we have to say. These death-by-chocolate-cake-and-alcohol cupcakes will have you and your friends drooling. This is the perfect remedy for a broken heart. You can check out the full recipe here.
1. Dark Chocolate Red Wine Cupcakes
4
The name of these cupcakes are mouth watering, never mind what they actually taste like! The dark chocolate and red wine cupcakes can be made into minis for a delicious finger food treat at get togethers with your girls. Check the full recipe out here.
Date Modified - 09/17/2018