Arby's Nutrition, Prices & Secret Menu [Upd. Oct 2023]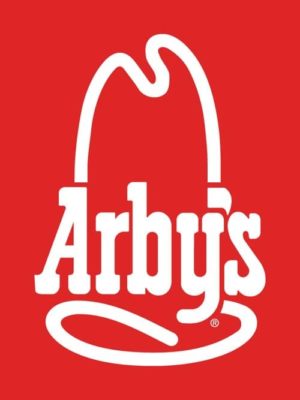 If you're looking for different fast food fare than the typical hamburger, head to Arby's for their famous roast beef sandwich and curly fries (because make no mistake about it, fries are better when they're curly), or grab a Market Fresh sandwich and Jamocha shake.
Whatever you choose, it is guaranteed to be a world apart from the typical fare at restaurants like Burger King, McDonalds and even Subway.
Year Founded: 1964
Revenue: $3.26 billion (2014)
Employees: 74,000 (2013)
Locations: 3,342+
Arby's were acquired by Roark Capital Group in 2011. But RCG only own 81.5% of Arby's, and The Wendy's Company (as in the Wendy's burger join) owns the other 18.5%. They are headquartered in Sandy Springs, GA, and are one of the most successful chains in the country. In fact, there are Arby's locations all across the U.S. and you can also find the famous red hat logo in Canada, Turkey and Qatar.
Arby's History
The Raffel Brothers in the early days, standing outside their popular restaurant.
Arby's was founded by the Raffel brothers, Forrest and Leroy, in 1964. The first location was just outside of Youngstown, Ohio, in a small hamlet called Boardman. Together they owned a restaurant equipment business, but the sank their money and their work into a new venture after realizing that the fast food market was saturated with burger joints.
Instead of serving hamburgers they would serve hot roast beef sandwiches in hamburger buns; instead of French fries, they would serve potato chips and a drink.
The menu was simple, easy and cheap. But it was also incredibly popular, and the Arby's restaurant took off.
Arby's Name and Design
The brothers loved the name "Big Tex" for their new restaurant, but another place in Akron, Ohio, was already using the name. As a result, they decided to use initials from their name Raffel Brothers, "R" and "B", and Arby's was born!
It didn't take long for expansion to begin. Only one year later, they opened a licensed franchise in Akron. It was then that the Raffel brothers commissioned the original designers who created the famous hat logo. With this logo they were able to take the brand into other regions, expanding through a franchise model that saw Arby's explode over the course of a few decades.
Arby's Expansion
Just four years after opening their first location, Arby's expanded beyond the Ohio border. In 1968 they opened more restaurants in Pittsburgh, PA, and in Detroit, MI.
In the 1970s, the Arby's name boomed, expanding across the United States at a rapid rate. Approximately 50 locations were opened every single year, making them one of the fastest growing restaurant franchises at the time.
These locations weren't the only part of the expansion either. The menus also grew beyond the traditional hot roast beef sandwiches and simple side dishes.
Arby's began to offer the traditional staples we all now enjoy. They added the roast beef and cheddar sandwich, as well as the Jamocha shakes, chicken sandwiches and curly fries. They also created two signature sauces (Arby's sauce and Horsey sauce).
In 1991, Arby's became the first fast food restaurant to introduce their own "lite" menu for those attempting to lose weight and still eat out.
To this day they remain one of the few fast food franchises with a large number of healthy options available. This allows them to cater for the growing health-conscious crowd, and to compete directly against typically "healthier" chains like Olive Garden and Subway.
Arby's Menu
Arby's is best known for its thinly sliced, warm roast beef sandwich on a bun. They offer a delightful alternative for meat lovers craving something other than a burger. They have a wide array of warm sandwiches and "Market Fresh Sandwiches", and all of these are made to order sandwiches like you'd find in a deli. It's not just meat either, as Arby's also have some vegetarian options, and these are growing all of the time.
You can also order from a specialty sandwich line that is built on a baguette. This includes toasted subs, briskets, salads and gyros. Arby's also offers a number of limited-edition items, ones that either tie in with a certain holiday, or are offered for just a few weeks at a time. This means that there is always something new to discover at this popular hot-sandwich chain.
It's not just about sandwiches either. In fact, Arby's are perhaps best known for their curly fries and Jamocha shakes. These have been available since the early years and have helped to shape the Arby's brand into what they are today.
Arby's Secret Menu
The Arby's menu is expansive and seemingly ever-changing. But with the Arby's secret menu, there are even more options to discover and indulge in, they also have a secret menu.
Their most famous secret menu item is a meat lover's dream — the Meat Mountain! This is every bit as amazing as it sounds. It combines every meat that Arby's offers, including steak, bacon, chicken and more. So much more.
If you want something a little less calorific, there are are some classic sandwich options with a twist. In fact, this is what most of the Arby's secret menu consists of. With a few magic words, you can order optional extras on top of all-time favorites, or you can twist classic sandwiches into original feasts.
If hot sandwiches are your thing, be sure to checkout the Subways secret menuas well. This is even more extensive, with a huge number of menu hacks to explore. And if you like the Meat Mountain, you should also give the Carl's Jr. secret menu a glance. When it comes to loading-up on meat, you can't do much better than this.
Arby's Nutrition and Calories
Arby's led the way in the 1990's by offering a light menu. This menu reduced the fat, the sugar and the calories. It offered the same options, and the same taste, but without the extra guilt. You can order these items directly, and you can also tweak the menu to suit your tastes, your needs and your diet.
By paying attention to toppings and sauces, your "Market Fresh Sandwiches" can be surprisingly light, while remaining just as fresh and just as delicious.
If you want to watch what you eat, be sure to read our Arby's nutrition guide. This guide is updated regularly with all of the latest menu items, as well as the sugar, fat and sodium content of each one.
Arby's Menu Prices
One of Arby's famous curly fries.
Arby's prices tend to be a little higher than some other fast food restaurants. You can expect to pay a little more here than you would at sandwich joints like Subway, and there are no rock-bottom value menus like there is at Taco Bell and Sonic.
These prices are by no means expensive though. This is still very much a fast food restaurant, and as well as fast, the food is also cheap. The prices are on par with chains like Wendy's and Chick-fil-A, and the extra that you pay is justified by the fresher ingredients and the bigger servings.
As an example, you can expect to pay between $3 and $6 for a sandwich meal, depending on the size and type. Add some extra sides to this, throw in a drink and you can still expect to pass less than $15 in total. Not bad when you consider how much fresh food you will get in return.
Arby's Locations
There are 3300+ locations across the United States, making Arby's the second largest quick-service sandwich chain in the country. Not bad when you consider that the chain ahead of them Subway, is also the biggest fast food chain in the world.
Arby's has flourished in the United States. Customers recognise the name and the logo. They are accustomed to the service. As a result, Arby's tends to succeed in whatever new location it opens in the US. However, it is a different story outside of the United States.
There are locations in other countries, including Canada, Qatar and Turkey. But, it has struggled in many more countries than it has succeeded in. Like many fast food chains before them, Arby's has tried to launch its name in countless countries. But unlike many of those chains, it has failed time and time again. All of the following countries once had Arby's locations, only for them to close down.
Australia (closed in the 2000s)
Bahamas (closed in late 1990s)
Brazil (closed in the 1990s)
Chile (closed in the 1990s)
Ecuador (closed in the 1990s)
Egypt (closed in late 1990s)
Indonesia (closed in the 1990s)
Japan (closed in the 1990s)
Jordan (closed in late 1990s)
Kuwait (closed in the 1990s)
Malaysia (closed in the 1990s)
Mexico (closed in the 2000s)
Netherlands (closed in the 1990s)
Philippines (closed in the 1990s)
Poland (closed in the 1990s)
Portugal (closed in late 1990s)
Taiwan (closed in late 1980s)
United Kingdom (closed in the 2000s)
Arby's Store Hours
Most Arby's locations are open from 10:00 AM to 11:00 PM. But be sure to check your local store, as some Arby's open earlier in order to meet the breakfast rush. International locations may open and close at completely different times, and those times are also subject to change during major holidays.
Date Modified - November 30, 2017