Auntie Anne's Secret Menu Items [Updated Dec 2023]
The Auntie Anne's secret menu is sparse, to say the least. This brand has been going strong for years and it has made a lot of baked treats in that time. In fact, Auntie Anne's have baked enough pretzels to circle the earth over 50 times! That's an astonishing amount of baked, buttery bread, and if you're anything like us, you're probably licking your lips at the thought of that equator-sized belt of pretzel.
The Auntie Anne's secret menu can create a few more options for pretzel lovers like yourself. But don't expect anything that comes close to the sheer size of the McDonalds secret menu or the variety of the Tim Hortons secret menu.
Auntie Anne's Secret Menu
The Auntie Anne's secret menu is growing all of the time as we look for new ways to expand the traditional menu. As we mentioned above, there isn't a lot to go off, but we'll do what we can. In the meantime, if you work at Auntie Anne's, if you're a regular customer or if you just know a few tips and tricks, we'd love to hear from you.
Other Flavors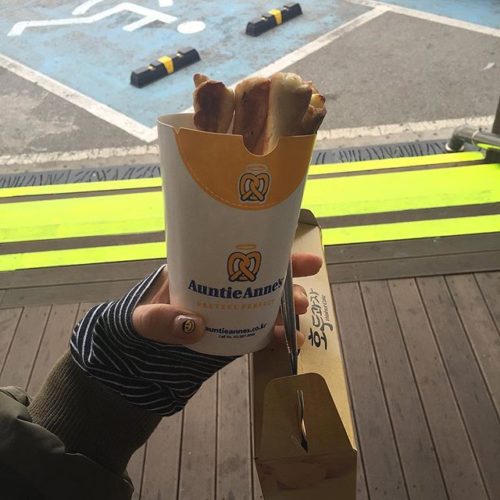 On the Auntie Anne's Menu Prices page we listed the basic menu, along with some prices for each item. These menu items were only relevant to the United States and to the main Auntie Anne's locations though. The truth is, the menu goes a little deeper than that.
In some locations, you can get a banana flavored pretzel. This is a nice change from the salty and savory pretzels typically on the menu, and it's also a great way to get a reduced sodium version. That's not all either, as there are many additional flavors to explore, including limited edition ones and regional specific ones. Some of these are only available on promotional menus, some are there in plain site, but customers miss them because they're used to ordering the same thing time and time again.
This is not technically an Auntie Anne's secret menu item, and it doesn't work for all locations. But if you like to try new things, just ask if they have any additional flavors on the menu.
Auntie Anne's Pretzel Recipe
The very first recipe used by Auntie Anne's wasn't very popular. In fact, it was described as "horrible", even by those making it. They changed it though and these days the Auntie Anne's recipe is loved across the country and the world. It's unique, a combination of soft dough, creamy butter and salt. It's hard to create a pretzel that comes close, but we have one.
Again, this is not a traditional Auntie Anne's secret menu item. But it gives you a chance to create an Auntie Anne's pretzel in your own home. What more could you ask for?
What You Need:
1 1/2 Cups of Milk
1 Packet of Yeast
2 tbs Sugar
10 tbs Melted Butter
1 Teaspoon Fine Salt
1 1/2 Cup Bread Flour
2 Cups All-Purpose Flour
2 Cups Hot Water
1 3/4 tbs Baking Soda
Cooking Spray
Sea Salt to Taste
What You Need To Do:
1. Heat the milk until it is lukewarm in the microwave. Add the yeast and wait until it has activated. Add the sugar and half of the butter. Stir until it has all combined.
2. Sift the salt, bread flour, and the all-purpose flour. Add this mixture to the yeast and bring together. Knead the mixture until strechy, as if kneading dough for a loaf of bread. Grease a bowl, add the kneaded dough, cover, and leave it someplace warm to rise.
3. When the dough has doubled in size, divide it into a dozen portions. You can create more or less depending on the size you want. Roll each portion into a thin rope roughly the width of your fingers.
You then need to create the pretzel shape. Begin by create a "U" shape. Cross the ends, and twist to create a large circle. Hold the ends and fold them into the circle, before sealing the ends to the bottom. You should have a pretzel shape. If not, and if you're struggling, just watch some videos of the experts at Auntie Anne's doing it. Although you may want to slow them down. Those guys go pretty fast.
4. Preheat the oven to 425 degrees and prepare 2 baking sheets by spraying then with cooking spray. Dissolve the baking soda into the hot water and dip each pretzel into the liquid. Place the pretzels onto the oiled baking sheets, allowing a little room to expand. Sprinkle coarse salt onto each pretzel and then bake for roughly 5 minutes. Turn them over, and then bake for another 5 minutes. They should be puffed and golden brown.
Once the bake has complete, spread the rest of the melted butter over the top, add a pinch of salt and sugar, and serve. As with the Auntie Anne's pretzels, these taste great when warm and served with a creamy dipping sauce.
Date Modified - 11/18/2023