It's Baaaaack! The Pumpkin Spice Latte Drops at Starbucks!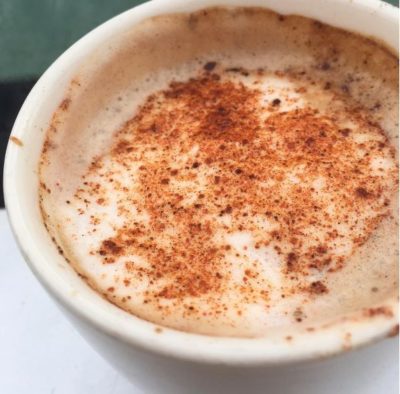 We've packed up the grills. Labor Day is ended. And as we head bleary-eyed back to the office after the unofficial end of summer, Starbucks has given us all something to make us happy! The PSL (aka. the Pumpkin Spice Latte) is back for the fall. Earlier than ever this year, but who are we to complain? A few extra weeks of our favorite fall drink! 
The Pumpkin Spice Latte is back
For 13 years, Starbucks has given us their specialty PSL drink every fall, and it is now as synonymous with fall as Halloween and pumpkin pie. It is a global phenomenon with millions of people in 50 countries who live for their pumpkin spice lattes each fall. But it has not been without its controversies.
Remember the fall of 2014 when our Facebook feeds were filled with the news there wasn't any actual pumpkin in the pumpkin spice latte? (Don't worry, they made sure to keep their customers happy by adding the real thing in2015!)
So, if you have been waiting the past eight months to get your lips around a steaming cup of pumpkin deliciousness, you don't have to wait any longer.
The PSL's espresso and steamed milk combined with their signature pumpkin pie sauce, filled with cinnamon, ginger, clove, nutmeg and pumpkin pie spice makes the PSL what it is. Oh, and what slice of pumpkin pie, er, latte, is complete without some whipped cream?
And this year, PSL lovers can add almond milk to their favorite Starbucks fall drinks.
Meet the new fall drink — Chili Mocha
But that is not all! If you want to branch out from the pumpkin spice latte, Starbucks debuts a brand new fall drink for your taste buds to test run. Their new Chili Mocha is sure to be a big hit, but can anything ever achieve the cult status that the PSL provides? It remains to be seen. Be sure to test it out and give us your opinion here at SecretMenus.com your thoughts on the new drink.
The Chili Mocha drink developed by Starbucks considered all that we define as fall in such nostalgic terms. Autumn is about warmth and spice, but Starbucks wanted to change it up and create something new, but still tapping into the "feel" of fall in their drink. So, the Chili Mocha was born. A rich blend of chocolate and heat.
The Chili Mocha is an espresso and steamed milk with cocoa and cinnamon pepper with their special topping combining many flavors — ancho and cayenne chili pepper mixed with cinnamon, paprika, sugar and a touch of sea salt. It sounds like a different, but rich and flavorful drink. A little less sweet and a lot more spice! But don't worry it will be too hot for you to handle. Michelle Sundquist, a Starbucks senior product developer, describes the heat as approachable. 
If you don't like coffee, you're still able to enjoy the Chili Mocha in a hot chocolate for the delectable sweet and spicy mix.
And we know what some of you might be saying. It's too early or too hot still to enjoy the fall drink delights. We counter with ice. Starbucks will blend the Pumpkin Spice Latte and the Chili Mocha into a frappuccino for you. Problem solved — fall drinks on ice!
Are you excited to get your first PSL of the season? Will you try the Chili Mocha? Tell us your thoughts below!
Date Modified - 05/03/2021