18 Things You Didn't Know About Chipotle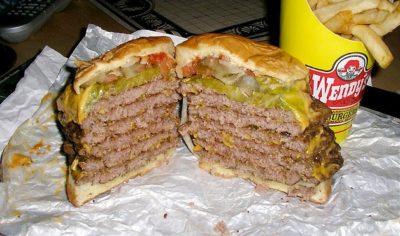 1. McDonald's Once Owned a Large Portion of Chipotle.
Chipotle was started in 1993. By 1998 they had 16 restaurants (all in Colorado) when McDonald's came knocking on their door and invested in the company.
By the time McDonald's sold their shares of Chipotle in 2006, the chain had grown to over 500 locations.
McDonald's invested approximately $360 million into Chipotle, and took out $1.5 billion when they left.
2. Chipotle Wasn't Supposed to be a Success. It Was Meant to Fund a Fine Dining Restaurant.
After graduating from culinary school, Chipotle founder Steve Ells wanted to open up a fine dining restaurant. He didn't have enough money so he opened up a small burrito shop instead. Even after opening up a few stores, he still dreamed of a white tablecloth restaurant and considered cashing out.
When his burrito empire took off at rocket ship speeds, he decided to stick with it. To this day he hasn't launched that high-end restaurant he once dreamt of.
3. Chipotle Has a Minimalist Store Design Because It Was All They Could Afford.
"I didn't have much money, so we had to make these very simple parts from the hardware store work in order to create the design" said company founder Steve Ells after being asked about their iconic store designs.
To open his first restaurant, Ells borrowed $80,000 from his father. Chipotle is now valued at more than $15 billion.
4. Chipotle Owns a Chain of Southeast Asian Restaurants Called ShopHouse.
After expanding to more than 1500 locations, Chipotle started experimenting with Asian food at one store in Washington D.C. in 2011.
The food at ShopHouse is inspired by Thai, Malaysian and Vietnamese cuisines and comes served in bowls. The idea came to company founder Ells after a trip to Singapore and Thailand.
It is already getting rave reviews.
5. Chipotle Uses 100,000 Avocados a Day. Thanks to an Ex-Employee, You Can Make Your Own Dip.
They might charge you extra for it at Chipotle, but did you know that you can make your own avocado mix thanks to an ex-employee? You might want to scale it down a bit since it's meant for a huge batch.
"Avocados (48 normal sized)
Red onions (2 1/2 cups diced)
Cilantro (2 1/2 cups 1/4" flake)
Jalapenos (1 cup diced)
Lime juice (Citrus juice, 1/2 cup ((FIRST BEFORE MASHING!)))
Salt (3 tbsp)

Sometimes it needs another 1/2 tbsp of salt, I usually put less cilantro in mine. I work at chipotle."
6. The Avocados You Eat at Chipotle Might Come From Jason Mraz.
Grammy Award winning singer Jason Mraz operates an avocado farm just outside of San Diego, according to Parade.
These avocados go to a local Chipotle, but not before Mraz eats two to four of them himself everyday.
7. You Can Cash In a Super-Rare Coin for a Big Fat Chipotle Burrito.
0
As far back as 1999, Chipotle has been giving free burrito coins to only their most loyal customers. Designs for these coins have changed over the years, but you can buy yourself a burrito for $35+ on eBay.

Yes, you only get one burrito for each coin, so you can expect to pay $35+ for that burrito, or you can hold onto the coin and resell it for a profit down the road.
8. You Can Order a 1500 Calorie Nuclear Explosion Called the Quesarito.
2
On Chipotle's secret menu, there's something called the Quesarito. It's all of the deliciousness of a standard burrito, except that it's wrapped in a melting cheese quesadilla.
Yes, it is as delicious as it sounds!
9. Chipotle is Secretly Entering the Massive Pizza Market.
4
Three years ago in 2011, Chipotle secretly entered the pizza market in Denver. Only 20 people knew about it until Eater blew the lid open.
Just like at a regular Chipotle, you go through a line and choose what to put on your pizza. Once you've chosen, it gets cooked at a fast speed.
10. Chipotle Prefers Hiring Unexperienced Workers. You Read that Right.
6
From their website: "NO EXPERIENCE PREFERRED. We've learned that experience in other fast food restaurants isn't of much value at Chipotle. That's because we really cook food at Chipotle."
11. You Can Buy a Chipotle Skateboard. Or Even a Chipotle Baby Onesie.
8
If big burritos aren't your thing, they have an online store. Did you know that? Check out their online store here.
12. All of Chipotle's Restaurants are Company-owned, Not Franchised.
0
Most fast food restaurants have become big because they license out their brands to independent operators. In other words, if you pay Burger King, McDonalds, KFC, and others enough money, you can use their name and sell their products.
Unlike most restaurant chains, Chipotle owns all of their stores, which allows them to keep their standards high.
13. You Get Twice as Much Food if You Order a Burrito Bowl Rather than a Burrito.
2
According to a Redditor, if you order a burrito bowl with a tortilla on the side, you get twice the amount of food for the same price! Sounds like the deal of the century.
Business Insider put the theory to the test, and came out 70% ahead with the burrito bowl.
14. Chipotle Serves Breakfast, But Only at Two Exclusive Locations.
4
If you're lucky enough to live in or travel to Washington D.C., then you can experience breakfast at Chipotle. Baltimore-Washington International and Dulles airports have service during breakfast, but only the Baltimore-Washington location has it's own unique breakfast menu, that includes frittatas.
Washington D.C. is also the only city where you can go to Chipotle and get served coffee from Philadelphia's La Colombe. These moves have made people speculate that Chipotle may be planning on rolling out breakfast to more locations nationally. Yummy!
15. Russell Wilson of the Seattle Seahawks Was Given Free Burritos for a Year.
6
Just before the super bowl, Chipotle gave Russell Wilson, the 25 year old quarterback of the Seattle Seahawks, free Chipotle for one year. Some commentators have called him the luckiest person of 2013 for this honor.
16. Chipotle is Experimenting with Serving Craft Beer.
8
Since 2012 Chipotle has been experimenting with serving craft beer at their locations. Right now in Chicago, you can get golden and dark ale with your burrito.
An exclusive ale called the Farmhouse Ale was created for Chipotle by the 5 Rabbit Brewery.
17. An Invite Only Customer Rewards Program Called "Farm Team" Exists.
0
If you butter up to your local Chipotle manager, you might be able to get access to "Farm Team", an exclusive rewards program where you can win free food, t-shirts, and even up to $200 of catering.
Invitation codes are so hard to come across, that someone bought one on eBay for $45 in 2013.
18. Chipotle Trucks Have Stickers that Say "Drivers Do Not Carry Burritos" to Stop Thieves.
2
Apparently, hungry people have been holding up delivery trucks dropping off ingredients to Chipotle stores. Chipotle had to put signs on their trucks that say "Drivers Do Not Carry Burritos" to keep bad guys away. Either that or it's just a joke, but either way, it's kind of cool.
BONUS: Chipotle has a secret menu that you probably haven't tried
4
You can check out the updated secret menu here: https://secretmenus.com/chipotle-secret-menu
Date Modified - 09/24/2018