DQ is Giving Away FREE Oreo Frappes Today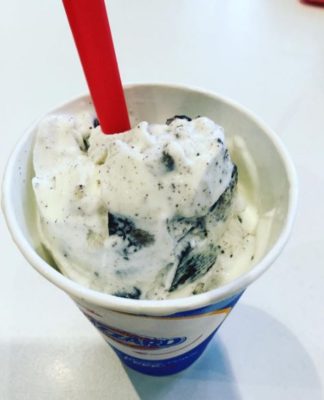 Free Oreo frappe
Feeling blue after the end of a long weekend? Well, Dairy Queen wants to help you extend the holiday weekend just a bit more with a free frappe giveaway! Today (September 6) from 2-5 PM, DQ will be giving away a free small Oreo cookie ultimate frappe. There is a limit to one per person, but no other purchase is necessary. Just head into your local Dairy Queen to get a sugary, post-holiday af
ternoon boost.
With a blend of coffee, ice, Oreos and, of course, DQ's signature soft serve, you'll be glad for the computer break. Because there giveaway is during their happy hours of 2-5 PM, you can enjoy special pricing on their other specialty drinks like their fruit smoothies. Or try out the new DQ Bakes to go with your free frappe. They are $2.00 of hot, snack-sized deliciousness for the perfect afternoon pick-me-up. You can choose from potato skins, two chicken snack melts (a bit like a Hot Pocket), and pretzel sticks.
Join the club
So head on over to Dairy Queen today to enjoy your free treat. And while you're there, sign up for the Blizzard Fan Club. Because, really, what else is Dairy Queen known for then their yummy, treat-filled Blizzards? The Blizzard Fan Club allows you the chance to get special news and insider only deals including coupons like buy-six-get-one-free Blizzard treat.
Go for the free Oreo frappe and come away satisfied!
Date Modified - 04/05/2021