Free Chipotle Jan. 26th, 2015 — Here are the OFFICIAL Details [U.S. + Canada]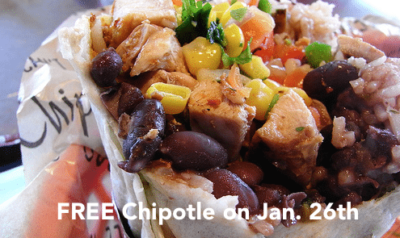 Yes, you read that right. FREE Chipotle if you purchase any of the new vegan option, "sofrito" menu items.
Chipotle rolled out the sofrito vegan options in U.S. + Canada and really wants you to try it.
If you purchase any sofrito item (tacos, salads, burrito, etc.) at any (US+CANADA) location on Monday, January 26th, 2015 (put it on your calendar)
For your efforts, you will be rewarded with a FREE voucher in return for a free menu item valid Jan. 27th – Feb. 28th
Maybe then, you will be brave enough to try the Chipotle Secret Menu.
Share this with your friends if you care about them.
Chipotle Hack:
You will visit multiple locations on that sacred day (26th)
and in turn receive multiple free vouchers.
Date Modified - 12/11/2018