Papa John's Pizza Secret Menu Items [Updated Oct 2023]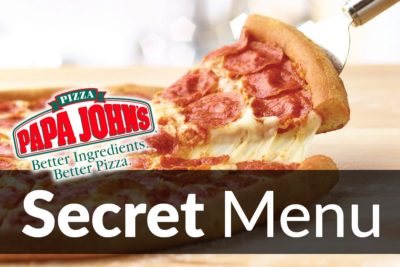 The Papa John's secret menu is small, to say the least. But there are some extra items to explore and menu hacks to discover. There have been a lot of popular discontinued menu items in the past as well.
And while we can't bring these back (believe us, we've tried) we can help you to make them yourself. With that in mind, let's take a look at what's lurking on the Papa John's secret menu.
Cinnapie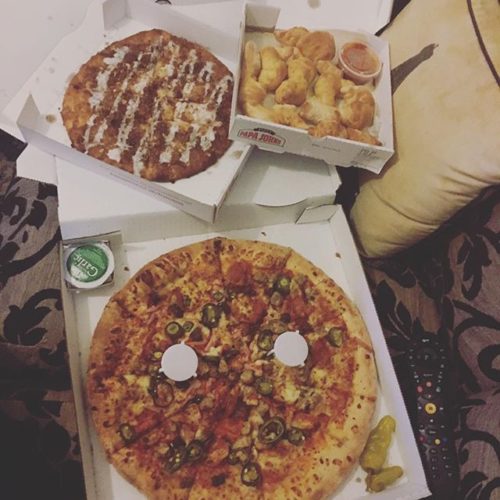 Ah, the Cinnapie. One of the few pizza restaurant deserts actually worth ordering. How many times has the question of, "Should we order from Papa John's, Domino's or Pizza Hut" been answered with "Well, Papa John's has the Cinnapie"?
Forget your chocolate cake, Carl's Jr. Keep your Blizzard, Dairy Queen. Because this is the ultimate fast food dessert, one that is on par with Cinnabon.
Or rather, it was the ultimate fast food dessert, because Papa John's, in their infinite wisdom, discontinued it in 2016. This is a chain that clearly doesn't know what's good for them. Yes they managed to turn a closet and a pizza oven into a billion dollar business (confused? read our Papa John's page to learn more) and yes they have thousands of locations worldwide. But clearly, they need some schooling on proper dessert retention. Because the Cinnapie should have remained.


Anyway, that's enough ranting. We've cried our last outrage and shed our last tear on the matter. The good news is that there is a solution. Unfortunately, we're not going to tell you that the Cinnapie exists on the secret menu. Because it does not. However, you can make it yourself, and we have the recipe below.
You can thank us later. Just save us a slice.
Cinnapie Recipe Ingredients
For the Pizza Dough
3/4 cup of warm water
1 sachet of dry active yeast
2 cups of flour
1 teaspoon of sugar
1/2 teaspoon of salt
3 tbs of olive oil
For the Topping
1 tbs of melted butter
Copious Amounts of Cinnamon
1/2 cup + 1/3 cup of flour
1/2 cup of white sugar
1/3 cup of brown sugar
2 tbs of shortening
2 tbs of vegetable oil
For the Icing
1 1/2 cups of powdered sugar
3 tablespoons of milk
1 teaspoon of vanilla
Cinnapie Recipe Process
1. Combine the dough ingredients and work.
2. Spray a tray with cooking spray or drizzle with oil. Lay the dough on top.
3. Prick holes in the dough. Brush over the melted butter and sprinkle over a desired quantity of cinnamon. If you love cinnamon, go for it. If you don't, a light sprinkle will suffice.
4. Mix together the topping ingredients. Pour this mixture over the dough.
5. Cook at 460 degrees for between 10 and 15 minutes, until golden brown.
6. While cooking, make the icing. Just mix until you have the desired consistency, adding more milk or sugar if it's too thick or thin.
7. When cooking is complete pour over icing, wait for it to cool slightly and enjoy.
You're welcome.
Bacon Cheese Sticks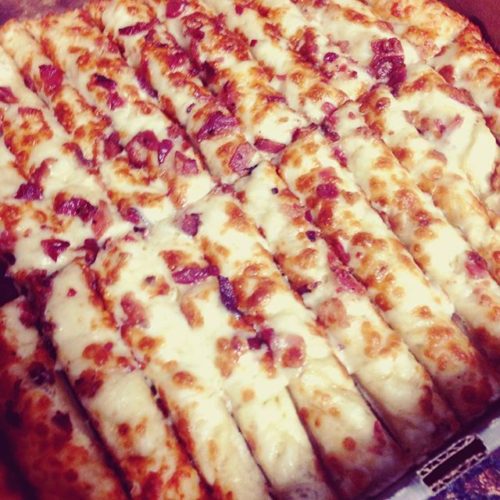 This might not be a secret menu item. It all depends on where you live. Because Bacon Cheese Sticks are available in some locations, but not in others.
This is one side that you don't want to miss out on. But the good news is that even if it's not in your local Papa John's, you can still request it. It's just dough, cheese and bacon (and we use the words "just" lightly) so all locations have the means to make them. Whether they will or not, is down to your persistence.
We're not big fans of garlic bread. We know, that's tantamount of blasphemy in the take-out pizza world. But it's true. However, Bacon Cheese Sticks are the perfect alternative. And if you're missing that garlic taste, just ask them to add some to the mix.
Date Modified - 09/08/2023