Feeling Hungry? Sonic Corn Dogs will be $0.50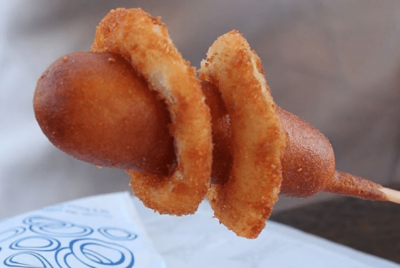 Sonic loves to give you fun specials. Including several times a year offering their corn dogs for $0.50 instead of the usual $1.00 price tag. For August 31, 2016, all day long you can grab as many of the $0.50 corn dogs you, your family and pets can eat and celebrate the end of summer with Sonic!
No coupons or apps needed, just good ol' fashioned word of mouth, for this fun celebration of the Sonic corn dog.
A Sonic corn dog and a drink
Sonic corn dogs are an American classic — hot dogs wrapped and fried in a sweet corn batter! And there are tons of drinks you can choose to drink with your almost-as-good-as-free corn dog! In fact, Sonic claims that there are 168,894 possible drink combinations.
There is literally a flavor combination for anyone. Even if you don't like a corn dog, take the kids for a cheap meal and grab something different for you. Maybe even something off of the Sonic secret menu!
And drinks are where Sonic all started back in 1953 in Shawnee, Oklahoma. Troy Smith opened up a root beer stand named the Top Hat Drive-in.
But it was on a road trip that the true inspiration for Sonic was born, when he saw a similar food stand in Louisiana with a two-way speaker system. At the Top Hat, the customer had to walk up and order, so when he got back to Oklahoma, he found someone to help him create the two-way talking system and added a carport to protect from the weather. He gave his carhops roller skates. And his sales improved instantly!
Sonic was born!
In 1956, Smith partnered with a local businessman to open more stores, and that is when they chose to change the name to Sonic. They wanted their drive-in fast food restaurant to provide service at the speed of sound.
While most drive-in fast food chains have fallen by the wayside, Sonic remains a popular fast food option. There are over 2700 franchises in most US states. And we have the chance to go back in time a bit.
So why are you still reading this? Head for the Sonic corn dog deal!
Check out Sonic's happy hour!
Date Modified - 05/04/2021