Steak n' Shake Nutrition, Prices & Secret Menu [Upd. Dec 2023]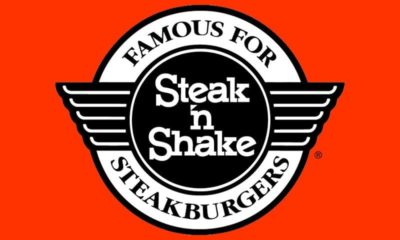 Sit down, drive-thru or take-out some traditional American fare with Steak 'n Shake, an Illinois institution that has spread across the United States and claims over 500 locations nationwide. Like Sonic and Burger King, Steak 'n Shake is a burger joint, but like Smashburger, it's one that does things a little differently.
Steak 'n Shake takes the best cuts of meat, typically served as prime cuts in steakhouses, and molds them into a succulent, meaty burger. This "Steakburger" is where they get their name and it is a product that has helped to propel Steak 'n Shake to the top of the fast food chain.
Year Founded: 1934
Style: American, Fast Food
Locations: 500+
Steak 'n Shake is owned by Bigliar Holdings. This conglomerate doesn't quite have the punching power of Focus Brands and other big food corporations. But it still has some financial clout and also owns Western Sizzlin' (which has approximately 100 locations in 19 states) and Maxim magazine. It is actually thanks to Bigliar Holdings that the Steak n' Shake chain still operates to this day. When they took over, it was running at a massive loss and looked set to capitulate. But within a short space of time, they turned things around and brought it back into the black.
Steak 'n Shake History
In 1934, Gus Belt owned a combination gas station and chicken restaurant named Shell Chicken. Based in Normal, Illinois, this combo-restaurant pumped gas and sold chicken and beer on the side. And for the most part, things went very well. But former Marine Belt noted that most customers were there for the beer, and this alcoholic beverage was their biggest seller.
As a result, when prohibition kicked in, the business suffered. Belt tried to keep it running, but sales dropped and he was forced to come up with an alternative. So, he converted the combination building into a hamburger stand, taking advantage of the fact that there were very few burger chains in Illinois at the time.
He name it "Steak 'n Shake" and set about exploting a unique angle that he (correctly) thought would ensure his business's success.
The slogan for the restaruant was, "In Sight it Must be Right". This was a reference to the fact that Belt would grind quality steaks into burgers in front of his customers. This way they could see what they were getting and would understand just what the Steak 'n Shake difference was. This worked, and the restaurant grew.
After a few years, Gus Belt acquired a local chain of restaurnats and rebranded them all with the Steak 'n Shake name. He expanded throughout his home state until his death in 1954.
Steak 'n Shake Steakburgers
The Original Steakburger in all of its meaty glory.
If you know nothing of the brand, you could be forgiven for thinking that there is steak on the Steak n' Shake menu. But there isn't a T-Bone or a Sirloin in sight. The "Steak" comes from their "Steakburgers", a product they are famous for and one that has helped to drive customers to their doors since the 1930s.
Their Steakburgers look like standard burgers, but instead of using cheaper cuts of meat, they use only the finest cuts of T-Bone Steaks, Round Steaks and Sirloin Steaks. These days, it's fairly common for burger chains to offer quality cuts of meat and to ensure their burgers are made with nothing but the best. Such is the case with the Hardee's menu and the Carl's Jr. menu, where you can find 100% cuts of prime Angus beef. However, this was a novelty back in the day, and when compared to some of the lower-end burger chains, that remains to be the case.
These Steakburgers are what makes this chain unique. They are what attracts customers from miles around and what gets communities excited when they hear that a Steak 'n Shake is opening near them. But if you can't find a location near you, then you can make your own Steakburger. Just checkout our copycat Steakburger Recipe to try this for yourself.
Steak 'n Shake Menu
The price of these big and beefy burgers might surprise you.
Their famous Steakburgers can be ordered in a number of ways. You can get them with cheese, bacon, mushroom, BBQ sauce and even in "Philly Style", which comes with American cheese, Swiss cheese, peppers, onions and garlic mayonnaise. If you like things spicy, then you can get some fiery peppers on top; if you prefer creamy, then their Wisconsin Buttery Steakburger comes with real melted butter.
All Steakburgers come with fries, and there are a number of sides to go along with them as well. You can get Cheese Fries, Cajun Fries, Garlic Fries and Chipotle Fries, and there is also a selection of salads if you'd prefer something a little lighter. If burgers are not your thing, Steak 'n Shake also have a variety of Sandwiches, including the popular BLT and Chicken Fingers; Steak Franks, which contain real steak, but are not exactly prime cuts; Melts, which is buttery, crispy bread that is loaded with cheese and anything else you want; and Chili, which can be as spicy as you want it to be.
There is also a selection of milkshakes, which they are equally famous for. These are hand-dipped, made to order and available in a variety of flavors. And if you get there in the early hours of the morning through to 11:00am, you can also order from their breakfast menu.
Steak 'n Shake Secret Menu Hack
Enjoy a selection of sauces on your burger or sides.
Burger chains always have the best secret menus. You only need to glance at the monumental In-N-Out Burger secret menu and the McDonalds secret menu to see that. The Steak 'n Shake secret menu isn't as big as these two, but it exists and it is growing all of the time. This chain was a little slow in hitting its growth spurt, but it has definitely reached that point now and as it continues to expand, then so will its secret menu.
So, take a peek at the Steak 'n Shake secret menu and be sure to bookmark it and check back. Every time a new menu hack becomes available, we will include it.
Steak 'n Shake Menu Prices
A classic Steakburger and shake as well as a side order of fries.
Steak 'n Shake menu prices are a little more than you would pay at Sonic, McDonalds and White Castle. But in terms of size and quality, you'll struggle to find a bigger, better burger for such a small price. They are cheaper than the Smashburger menu and many of menus that pride themselves on selling big, juicy burgers from from quality cuts of meat.
To give you an idea of what you can expect to pay, a Steak 'n Shake Combo, which comes with a drink and a side of fries, costs less than $7 on average. There is also a menu section for "Meals Under $4", which is some of the best value for money you will find in any burger chain.
On average, Steak 'n Shake menu prices are in line with the Burger King menu. And in terms of the quality and size of the burgers, as well as the sides that you can order to go along with them, they're also very similar. To see a full list of prices for all menu items, visit our Steak 'n Shake Menu Prices page.
Steak 'n Shake Nutrition and Calories
For the most part, Steak 'n Shake menu items look fattier and more calorific than they actually are. But you should still take a peek at our nutrition info table.
Big burgers come with big calories, and Steak 'n Shake's Steakburgers are no different. However, it's not as bad as you might think. They have nothing on the super-calorific Five Guysburgers. In fact, while a Combo might push you over your calorie RDA at Five Guys, it should leave plenty of room to spare at Steak 'n Shake.
As an example, their Bacon Double Cheese Steakburger, Double Steakburger with Cheese and their Double Steakburger, all contain fewer than 500 calories. Many of thirr famous burgers are around 700 calories, with the biggest offender being the Frito's Chili Cheese Double Steakburger, which packs over 1,000 calories.
If you want to keep that calorie count down even more, opt for one of their Shooters, which contain fewer than 200 calories; or their Sandwiches, which are around 400 on average. Just don't assume that the Chili is one of the healthiest options, because it is most definitely not. In fact, their Chili Deluxe Bowl contains over 1,200 calories, 2.5 grams of salt and 74 grams of fat. For that, you might as well pig-out on a few burgers.
To learn more, read our Steak n' Shake Nutrition Info page. This will keep you updated on the fat, salt and sugar content of all menu items, as well as the calorie count.
Steak 'n Shake Locations
Speed was always important for Gus Belt. He would insist that all burgers had to be cooked and served within 5 minutes of the order being place. And this speed helped to increase the profit, which in turn helped the brand to grow.
After Belt's death in the 50s, it grew very slowly and struggled for a couple decades. In the late 80s, things began to change and in the 90s it picked up. They had a new management team, a new way of doing things, and this helped the business to grow faster than ever before. By the time they sold to Biglari in 2008, they were back on track, growing at a speed that Belt would have been proud of.
These days there are over 500 locations, many of which are company owned. They can be found in 32 states and they have also expanded into the Middle East and Europe. International locations began popping up in 2013 and as of 2016, Steak 'n Shake can be found in all of the following countries:
France
Italy
Monaco
Portugal
Spain
United Arab Emirates
Steak 'n Shake Store Hours
One of the things that helps to set Steak 'n Shake apart from its competitors is that it is open 24 hours a day, 7 days a week. There are very few chains that tick this box (White Castle and Waffle House being two of them) and it makes life easier for those working night shifts, keeping odd hours and struggling to sleep.
However, this might not apply to all locations, so be sure to check with your local restaurant before dropping-by with bleary eyes and steak sauce-stained pajamas.
Date Modified - December 4, 2017