The Highest Calorie Restaurant Meals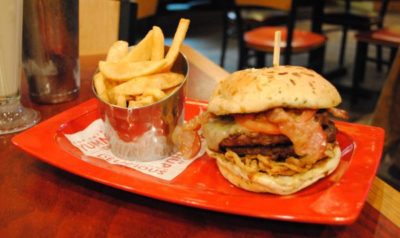 1. Bruleed Breakfast
The amount of calories in this dish is terrifying, to be honest. On average, we're not supposed to eat over 2000 calories a day, unless we're bodybuilding. If we're bodybuilding, we're most likely not eating at the Cheesecake Factory. This Bruleed French Toast is thick French bread topped with sugar, maple-butter syrup, bacon and more.
Calories: 2,780
Sodium: 2,230 mgs.
On average, we're supposed to eat 1500-2000 mgs of sodium daily. If you're planning to eat anything else that day, you shouldn't if you have this breakfast in your tummy.
2. Bad for the body burger
Ah, who doesn't love burgers? This A1 Peppercorn Burger has even more calories than our last dish on the list. This burger comes from Red Robin, an east coast fave and just may give you a heart attack. The calories in this burger add up to over 1 pound. 3,500 calories = 1lb. This burger = 3,540 calories and over 6,200 mgs of sodium. That's 3x the amount we should be eating!
So what's on this crazy burger? Peppercorn spread, tomatoes, crispy fried onion straws, all-you-can-eat French fries and a caramel milkshake.
3.  Sickening Seafood (literally)
Who knew seafood could be so fattening? The "Big Hook Up" is from Joe's Crab Shack and features over 3,280 calories of deliciousness and diabetes. This plate comes with crab balls, jalapenos, cream cheese, panko breadcrumbs, ranch dressing, dish and chips in better batter, coconut shrimp, hush puppies and coleslaw. You may not think that's too many calories after our last contender on the list, but the sodium count? Out of this world at 7,610 mgs of sodium.
If you're planning to order this dish, make sure you set up an appointment with your doctor for a check before you even step foot in this restaurant!
4. Big Slab of Calories
This Big Slab meal may remind you of your southern cousin's cooking. Made by Famous Dave's, this plate comes with St. Louis styled spare ribs, half pound of meat, sauce on an open flame, two sides and a corn bread muffin. You also get French fries and baked beans for the sides. This dish comes in at 2,770 calories and 4,320 mgs of sodium. Let's not even dive into the saturated fat – but we can guarantee there is lots of protein in all that meat!
5. Paradise Pizza
If you want to use up all of your calories in one day, you may want to try BJ's Restaurant and Brewhouses' 9″ Signature Deep Dish Chicken Bacon Ranch Pizza. Many of my Californian friends would love this as they add ranch on top of your cheddar cheese, diced tomatoes, smoked bacon, jack cheese, onions and more. Sure, the calories are a lot less but the sodium content is still high at 4,680 – way over twice than what you need.
Date Modified - 11/07/2018