Tim Hortons Secret Menu Items [Updated Dec 2023]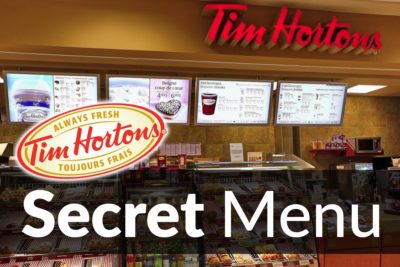 The Tim Hortons secret menu is one of the biggest we have. That might come as a surprise, as most of our readers assume that the biggest secret menus come from the likes of KFC and McDonalds. But the truth is that few chains have embraced the secret menu culture like Tim Hortons, which makes them one of our personal favorites. In many ways, this is similar to the mammoth Starbucks secret menu and can be seen as an extension of the somewhat smaller Dairy Queen secret menu and the Dunkin' Donuts secret menu.
The reason the Tim Hortons secret menu is so big and so unique is because their servers will do anything for the customers (within reason, of course). Whatever you request, they will do it. If you've ever suffered the frustration of ordering a secret menu item only to be given a confused stare in reply and told that it's not possible, then you will appreciate how good this is.
As an example, the image on the left is of a very strange concoction that was put together by a Tim Hortons server at the request of a customer. This customer posted the image on Twitter, and as you can see from the Tweet, the order got oddly specific.
Because of this, there is nothing stopping you from creating your own Tim Hortons secret menu items.
We have some of our own secret menu hacks below, as well as some other field-tested hacks. But if you find any interesting ones yourself, be sure to get in touch or to hit-us-up on Facebook and let us know. We're always on the lookout for Tim Hortons new secret menu items.
Date Modified - 10/20/2023