Costa Coffee Nutrition, Prices & Secret Menu [Upd. Oct 2023]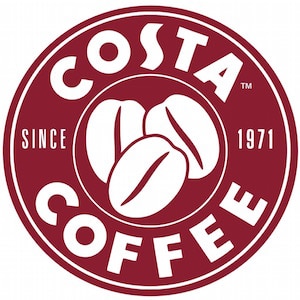 Costa Coffee isn't a name that many Americans will be familiar with. But beyond these shores the Costa name is well known and has a massive following. Costa offers the finest coffee and snacks, as well as a great atmosphere to enjoy them in.
In many countries, Costa Coffee competes directly with Starbucks coffee prices, and in some towns and cities, it has the jump on them. Costa Coffee actually has a lot in common with the Mighty Starbucks, and not just because they both sell coffee.
Founded: 1971
Revenue: £1.1 Billion+ (2016)
Locations: 3,200+
Costa Coffee History
The comparisons between Starbucks and Costa Coffee in the early years are quite striking. Like the famous Seattle-based brand, Costa Coffee were founded in 1971. They looked to establish themselves in London, a city that was big on coffee, but short on quality.
As with Starbucks, Costa Coffee did not sell brewed coffee in those early years. Instead, they focused on sourcing the best beans and on roasting these for caterers, as well as for other businesses. They operated like this for 7 years before they started to brew the coffee themselves and to sell the product direct to consumers.
The two owners were Bruno and Sergio Costa, which is where the Costa Coffee name came from. By 1985, Sergio bought his brother's share of the company and within ten years he had grown the chain to include 41 locations across the UK. In 1995, Costa Coffee was acquired by Whitbread, a multinational chain that also own the Premier Inn and Beefeater Grill brands.
From here, Costa went global in a short space of time. The might of a multinational helped the brand to grow exponentially. Within 15 years they had 1,000 stores, and from 2009 to 2016, they opened a further 2,277.
Costa Coffee Menu
Costa Coffee lures you in with the sumptuous smell of freshly baked goods and freshly roasted coffee. There is a board behind the counter that displays their extensive menu and you can order everything from coffee and tea, to hot chocolate, iced lattes and more. Costa Coffee also provides a range of snacks, including cupcakes, brownies and flapjacks.
Their hot drinks can be purchased in take-out cups, or they can be served in Costa branded ceramic cups and saucers. Many of their locations tend to be large enough for you to sit, drink and unwind, but some only have a couple of tables (if any) and expect customers to drink and snack on the go.
Costa Coffee has its own roastery and still sells pre-roasted coffee to caterers and consumers. Most of these come in the form of coffee pods, which work with the Tassimo coffee machine.
Costa Coffee Secret Menu
The Costa Coffee secret menu is small, to say the least. This is nothing like the Starbucks secret menu, as the company just haven't got behind the idea as much as their rivals have. It does exist though and there are a few items to explore that you won't find on the standard menu.
The vast majority of these are drinks, as you would expect, but there are other secret menu hacks, tricks and more to discover as well.
Costa Coffee Nutrition and Calories
Costa Coffee are not shy when it comes to advertising their nutrition info, and for the most part, it's fairly reasonable. Of course, it all depends on what you order. The choice is entirely down to the consumer. If you want to order something light, then you can opt for skimmed milk, no sugar and no extras. This way your drink will be less than 100 calories and even less than 50.
If you want full fat milk, several sugars and a super-sized option, then you may be looking at over 200 calories. The hot chocolates are even more calorific, while the butter-loaded flapjacks are packed with fat, sugar and calories.
Read our Costa Coffee nutrition guide to learn more about the calories in the food you're eating and the drink's you're drinking.
Costa Coffee Menu Prices
Costa Coffee prices tend to fluctuate depending on location. You can expect to pay an average of just £2 for a cup of coffee, but this can go as low as £1.80 and as high as £3.20 depending on the size and the type. And that's before you add any extras.
A cup of tea, that traditional British favorite, costs less than £2 and there is a wide choice of these on the menu. Their soft drinks range from £2.50 to £3.50 and you can generally fill up with a tasty snack or light lunch for less than £5.
Find out more about Costa Coffee menu prices by reading our guide on the subject.
Costa Coffee Location
Make no mistake about it, Costa Coffee is one of the biggest coffee chains in the world. However, it has yet to enter the US market and would likely face fierce competition if it ever tried.
It hasn't suffered as a result of excluding the world's biggest marketplace though. In fact, it turns-over in excess of £1 billion every single year and has a reach that extends to 28 countries.
A third of all its locations can be found in the United Kingdom, where it has a greater presence than Starbucks. But other locations include:
Bahrain
Bulgaria
Croatia
China
Cyprus
Czech Republic
Egypt
Greece
Hungary
India
Ireland
Jordan
Kuwait
Latvia
Lebanon
Montenegro
Oman
Pakistan
Philippines
Poland
Qatar
Romania
Russia
Saudi Arabia
Serbia
Slovenia
Syria
Turkey
United Arab Emirates
Many of their locations are in shopping centers, airports and other high-traffic areas. In the UK, Costa Coffee also have cabinets in petrol stations and supermarkets, which means you are never too far away from a cup of Costa coffee.
Costa Coffee Careers
If you are passionate about coffee and you're looking to get a foot onto the career ladder, then Costa Coffee might just have what you're looking for. They pay decent rates for servers, and these increase for managerial roles.
To see what's available in your area, just visit the Costa Job Site and look for vacancies. With so many stores around the world and with new ones opening all of the time, there are always vacancies.
Costa Coffee Store Hours
Costa Coffee's opening times and store hours are often dictated by the airport or shopping center in which they are based. They tend to stay open for as long as the shopping center is open. In the case of the airport, they are open throughout most of the day. Costa Coffee locations on high streets close earlier.
Date Modified - December 4, 2017