Taco Bell Secret Menu Items [Updated Oct 2023]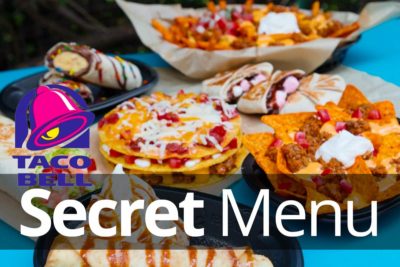 Whether you're tired of the Taco Bell menu or you just want to add a little more spice to your favorite dishes, the Taco Bell Secret Menu is perfect. This is one of the biggest secret menus we have covered on this site and it's also one that our readers have fallen in love with.
Selling secret Mexican food mashups similar to the Chipotle secret menu's Quesarito, the Taco Bell secret menu is packed with delicious entrees, extras, sauces and dips. They really have jumped on the secret menu bandwagon and are happy to announce al kinds of hidden menu items, while also serving the needs of customers keen to create menu hacks.
So, prepare to discover a new side of this top Mexican fast food chain by taking a look at the Taco Bell secret menu, displayed in full on this extensive guide.
If you're not accustomed to the secret menu concept yet, then it's basically a way of "hacking" the menu to unlock more items, to create your own dishes, to get specials that are no longer listed, and more. So, let's see what the Taco Bell secret menu has in store.
Date Modified - 09/15/2023