12 Things You Didn't Know About McDonald's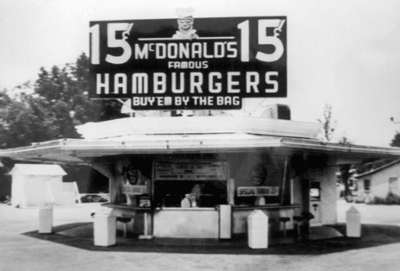 1. McDonalds' first menu items were hot dogs.
The McDonald Brothers noticed the success of a nearby hot dog stand and created Airdrome hot dog stand in 1937.
In 1940, they switched locations and changed the name to McDonald's Barbeque.
McDonald's Barbeque was temporarily closed and was reopened in 1948 with a new menu. View the full McDonald's Menu.
2. 13% of American workers have worked at McDonald's.
1 in 8 American workers has been employed by McDonald's.
Currently, McDonald's employs 1.7 million people around the world.
3. The golden arches are the most recognized symbol in the world.
More people recognize these arches more than they do the Christian cross.
4. A new McDonald's restaurant appears every 14.5 hours.
There are at least 33,000 McDonald's restaurants around the world.
McDonald's feeds 68 million people every day, which is greater than the population in the U.K.
5. McDonald's distributes more toys than Hasbro and Mattel every year.
This is why McDonald's is so many kids' favorite restaurant.
The chain includes a toy in 20 percent of all sales, totaling 1.5 billion toys worldwide each year.
6. McDonalds' salads are more fattening than their hamburgers.
0
The grams of fat in the salads range from 5 to 22 grams of fat.
The hamburger only contains 9 grams. Check out the uncovered list of McDonald's Nutrition Info – you'll be amazed.
7. McDonald's is not the world's largest restaurant chain.
2
Subway has 42,000 restaurants; McDonald's has 33,000.
8. Ronald McDonald was not the first mascot.
4
Speedee, a winking waiter with a hamburger shaped head, was.
Ronald McDonald replaced Speedee in 1967.
9. McDonald's in Germany sells beer.
6
Why would this kid-friendly restaurant serve alcohol?
In Germany, alcohol is viewed differently
Unlike American views, Germans see alcohol in public as socially acceptable.
Check out the McDonald's Secret Menu for more hidden menu items.
10. McDonald's delivers in 10 countries.
8
The countries include Australia, Cyprus, China, Indonesia, Japan, Taiwan, India, Singapore, and the Unites States.
In the Unites States, McDonald's currently delivers in only in 10 major cities.
11. The Queen of England owns a McDonald's restaurant.
0
The restaurant is located in Slough near Windsor Castle.
12. McDonald's sells more than 1/3 of all the French fries sold in the U.S.
2
The chain sells about 2.7 billion pounds of French Fries every year.
BONUS: McDonald's has a secret menu
4
You won't believe what you've been missing. View the rest of the secret menu here: McDonald's Secret Menu
Date Modified - 10/03/2018