Popeyes Nutrition, Prices & Secret Menu [Upd. Sep 2023]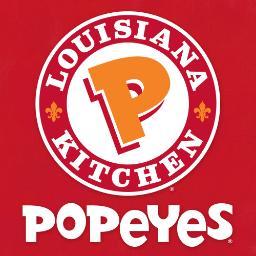 Fried chicken is a southern staple, and one that Popeyes Louisiana Kitchen have perfected. This is Louisiana fast food at its very best—southern home cooking with all the convenience of a large-scale chain restaurant. Known officially Popeyes Louisiana Kitchen, and colloquially as just "Popeyes", this restaurant also goes by the names "Popeyes Chicken" and "Popeyes Chicken & Biscuits".
Year Founded: 1972
Revenue: $206 million (2013)
Headquarters: Georgia, United States.
Locations: 2,000+
Whether you're looking to sate your appetite in the Heart of Dixie, to grab a quick snack in the Big Apple or to enjoy a feast in South Korea, Popeyes has the answer. This is comfort food at its very best, made to classic southern recipes and injected with the sort of heat that any southern belle or gentleman can get behind.
Popeyes History
Popeyes was founded by New Orleans businessman Alvin Charles (or "Al") Copeland, He created the restaurant as a direct competitor to Kentucky Fried Chicken, who they resemble in many ways.
Known as "Chicken on the Run", the first restaurant was located in the New Orleans suburb of Arabi. Like KFC, they served traditional southern fried chicken with a mild heat, but business was slow. The business had been operating for a few months when Copeland decided to change of tact.
He made the recipe hotter and spicier, giving it a flavor that set it apart from their rivals. He also changed the name to "Popeyes", taking inspiration from a character in The French Connection, and not from the famous, spinach-eating, muscle-bound cartoon character.
Within a few years, Popeyes began welcoming franchisees. A few years later, they introduced buttermilk biscuits to their menu, changing direction slightly and giving their customers more of a taste of southern cooking.
In 1985, Popeyes reached 500 locations across North America. In 1991 they opened their first restaurant outside of North America, and in 1999 they reached 1 billion sales annually.
The lack of an apostrophe in the Popeyes name has frustrated many a grammar nazi over the years. Al Copeland, who created the name, went on record as saying that he was too poor to afford an apostrophe. Although the truth is probably a little less interesting.
Popeyes Financial Struggles
It hasn't all been plain sailing for Popeyes. In 1990, their parent company, Copeland Enterprises, defaulted on substantial debts and was forced to declare bankruptcy a year later. Popeyes creditors created a different parent company, named America's Favorite Chicken Company, and took over the Popeyes brand.
Although AFC controlled Popeyes, they didn't have full control of the recipes that had helped to grow this brand as they were still in the hands of Copeland's estate, which meant that for many years AFC had to pay a license just to create its own proprietary seasonings and recipes.
This finally changed in 2014 when Popeyes bought the rights to those recipes for a total of $43 million.
Popeyes Menu
Popeyes is all about southern comfort food, specializing in fried chicken. You can order chicken breasts and chicken legs, and there is a variety of options for each. Popeyes has a wealth of meal combos to choose from and these include all kinds of sides, drinks and more. Popeyes also has a dessert menu, satisfying that famous southern sweet tooth.
Popeyes are also very conscious of their customer's dietary needs. They have options for "gluten-free" diets and they also cater for many allergies and food sensitivities. There isn't a great deal of choice for vegetarians and vegans, however. This is to be expected from a chicken shop. If you don't eat meat or dairy and find yourself in Popeyes you may be limited to sides like Macaroni & Cheese (vegetarian) and cajun fries (vegan).
To learn more about suitable foods for particular diets, check out our Popeyes Special Menu section.
Popeyes Secret Menu
The fact that there are so many chicken restaurants across the US means that Popeyes are always in fierce competition with their rivals. This helps to keep prices down, and means that when KFC create something big and new, Popeyes create something bigger and newer. As a result, there is a huge menu to explore and an even bigger hidden menu. If their servers and their managers think they are serving you something you wouldn't get elsewhere, they are usually up for it.
If you like things a little spicier, a little saucier, a little crispier or a hell of a lot bigger, the Popeyes secret menu can help. The servers are also always happy to help, even more so now that the idea of secret menu hacks has taken the internet by storm.
Checkout the Popeyes secret menu to see what's in store. Whether you're a big fan and have eaten everything on the standard menu, or you're new to Popeyes, there will be something for you to enjoy here.
Popeyes Nutrition and Calories
Popeyes nutrition is not the best. Southern food is hearty. It is packed with fat, salt and everything that's bad for you. That's why it tastes so great! It's not all bad though, and Popeyes have jumped on the health-conscious bandwagon in recent decades.
You won't find a lot of trans fats in their mild or spicy chicken and if you want to cut down on the bad stuff then try their Chicken Nuggets, which have just 150 calories for a 4 pack; their Loaded Chicken Wrap, which will fill you up but only contains 310 calories; and their Shrimp Po'Boy, which contains nearly a third of the calories as their Chicken Po'Boy.
Some of the menu items that pack a surprising number of calories including their large coleslaw, which contains over 400 calories, their Egg & Sausage Biscuit, which comes in at 690, and their 18 Piece Onion Rings, which are a waist-expanding 830 calories.
Popeyes Menu Prices

Popeyes prices are very affordable. This is southern food for the people, and their prices tend to reflect the wide variety of people who eat here. Their Bonafide Chicken, which is their most popular fried chicken, costs just over $5 for a 2 piece dinner. This includes a regular side and a biscuit.
If you're feeling particularly hungry or have a group of people to satisfy, then you'll be better off with one of their Family Meals. The Chicken Meal contains 16 pieces of fried chicken, 8 biscuits and your choice of three large sides. This behemoth bucket of food will set you back $37.99 and is sure to keep even the fussiest and most insatiable groups happy.
Their sides, which range from spicy Cajun Fries to Coleslaw and Mashed Potatoes, cost between $1,50 and $4, depending on the type and the size. Generally, you can get a light bite for a couple of dollars and a big meal for less than $10. Just make sure you leave room for dessert, because Popeyes have a delicious Hot Cinnamon Apple Pie on the menu.
Popeyes Location
There are more than 2,000 Popeyes restaurants around the world. As a franchise, the restaurant is open to anyone seeking to use the Popeyes name. There are requirements though, and these are quite strict. Popeyes have a list of countries in which they are seeking franchises, and there are also a number of rules that must be followed.
The international franchises tend to be located in or near US military bases. This is because it is so ingratiated in American culture and because the Popeyes name is well known to all Americans. This is the case with European franchises like those in France and Germany, which are not accessible by the general public.
The company only owns a fraction of the restaurant that carry their name. In 2010 they owned just 37. This is despite the fact that there were a total of 1,533 restaurants in the United States, 42 in Canada and 333 internationally.
Popeyes Store Hours
Popeyes store hours differ from location to location. In most cases they open at 10:00am and close at 10:00am, 7 days a week. On Sundays, some locations may shut an hour or two earlier or open an hour or two later. However, these hours tend to be universal across all US stores.
Popeyes usually remains open on national holidays as these are some of their biggest days. However, they shut on Easter Sunday and Christmas Day. You can learn more about their opening days on our food holidays guide.
Date Modified - December 4, 2017