Benihana Nutrition, Prices & Secret Menu [Upd. Jun 2023]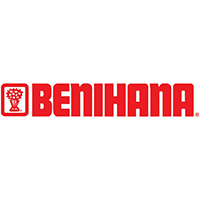 If you're looking for a dinner and a show, if you want a taste of Japan in a traditionally Japanese setting, then book a table at Benihana and enjoy the performance. Established in the 1960s, Benihana has grown steadily since then. There are more than 100 locations around the world, and the Benihana brand can be found in over 100 countries.
Benihana also own the RA Sushi brand, which is responsible for close to 30 Japanese restaurants. RA Sushi is catered more towards the evening crowd, but it's just as high-energy and fun as Benihana.
Year Founded: 1964
Headquarters: New York City, New York
Locations: 100+
Benihana History
Benihana was created by Hiroaki Roki, the son of a Japanese coffee shop owner. He was inspired by his father's passion. Hiroaki, known as "Rocky" to his friends, moved to the United States with dreams of following in his father's footsteps.
He sold ice cream to get by and took out a loan to get the extra cash needed. In 1964, he finally opened the restaurant, choosing to give it the same name as his father's business back home. "Benihana" was located on West 56th Street in New York City, with a simple exterior and an interior styled around a Japanese farm house.
Benihana served fresh Japanese food that was cooked on a hot grill in front of the customer. The chefs were able to impress with their knife skills, giving customers dinner and a show.
The restaurant received rave reviews from customers and critics alike. Within a few short years, Rocky was able to open more locations and before the restaurant was a decade old, there were half a dozen locations in total. By the time Rocky passed away in 2008, aged 69, there were more than 70 locations nationwide, with more located overseas.
Benihana Menu
Benihana serves Japanese cuisine cooked fresh before your eyes. You can order all kinds of cooked meat, seafood and vegetable dishes, and there is a great joy to be gained from watching these sizzle and roast in front of your eyes. If you'd prefer, you can also order sushi, and there is a wide selection of these to choose from.
The Benihana menu is extensive, to say the least. There are many different sections for different tastes, different diets and different times of the day. There are entrees, mains, sides, desserts and drinks. You can opt for a cold sushi dish, a sizzling meat dish or a fresh seafood dish.
Benihana Secret Menu
There is so much to discover on the Benihana menu, and there are also a few items on the Benihana secret menu as well. The fact that there are only just over 100 locations would usually limit the size of the secret menu, but the Benihana secret menu is an exception to that rule.
So, if you want to discover some extra menu items, or if you want to learn some Benihana secret menu hacks, be sure to check this out.
It is updated regularly and we're always on the lookout for new menu hacks, new tricks and more.
Benihana Nutrition and Calories
There is a lot of vegetable and tofu dishes on the Benihana menu, and on first glance it also looks like there are options for those on nut-free and gluten-free diets. But as discussed on our Benihana Nutrition Info page, that is just not the case. This is a modern restaurant and it's one that serves a lot of different foodstuffs. But the very nature of the restaurant pretty much rules out vegetarians and vegans, and a few of their basic ingredients also rule out those on gluten-free diets.
If it's healthy food that you're looking for, there are plenty of options. Most of the food is fried, but there is sushi, and all kinds of other nutrient rich dishes to enjoy. Just take a peek at our Benihana nutrition info page to learn more about this and to see a full list of all Benihana nutrition and calorie information.
Benihana Menu Prices
Food is served pretty quickly at Benihana. However, this is by no means fast food. The prices are therefore much higher than what you would pay at a fast food restaurant, and they are also higher than many casual dining restaurants, including TGI Fridays and Olive Garden.
There are specials and combos that will set you back around $30, plus drinks and any extras that you want. On average, you will pay between $10 and $20 for a main meal, but this amount increases significantly if you want to go the whole hog with a three or four course meal.
As an example, if you opt for some Alaskan Roll sushi for starters; a Lunch of Hibachi Lemon Chicken with a Side of Miso Soup; a dessert of Fresh Pineapple Boat; and a drink of Benihana Herb Tea to wash it all down with, you'll need $40 before tips. Add some premium steak to this list, along with an extra course and a tip, and you can expect to pay double that.
Benihana Locations
Benihana is one of the smallest chains on this site. It has just over 100 locations around the world. And while that sounds like a respectable number, it begins to sound less respectable when you consider that Jimmy John'sopens up over 200 new locations every single year, and that Five Guys opens even more.
However, what it lacks in sheer scale, it makes up for in reach. In fact, there are Benihana restaurants in more countries than Jimmy John's and Five Guys put together. And they also have a bigger reach than many chains that have 10 or 20 times as many locations.
They can be found in 24 countries around the world, including:
Aruba
Australia
Brazil
Canada
El Salvador
Panama
United Kingdom
Venezuela
Benihana Jobs and Careers
If you fancy trying your hand at being a Benihana cook, then you're going to need some skills. This is not a simple fast-food job. That's the downside, but the upside is that the cooks tend to make more as a result. Many of these seem to enjoy working at Benihana, and there are also a lot of happy and amazed customers throwing big tips around, which surely helps.
If you're looking for a new career, whether as a server, a cook or something in more of a managerial role, then give Benihana a go. This is not a huge chain, so there aren't as many openings as you would expect from other brands. But if you keep an eye on the local classifieds and on the Benihana website, you can jump on an opening as soon as it becomes available.
The following wages are what you can expect on average. These are relevant as of 2016.

Restaurant Host: $9 to $10 an hour
Kitchen Helper: $10 to $11 an hour
Head Chef: $13 to $14 an hour
Line Cook: $11 to $12 an hour
And that's before tips!
Benihana Store Hours
Benihana opens 7 days a week and is open throughout much of the day, but in many locations it closes after Lunch service and then opens again in the evening. Such is the case with their popular London, UK, restaurant. This opens from 12:00pm to 3:00pm, and then again from 5:00pm to 10:30pm. You can expect similar times in other locations, although these will be reduced during certain holidays.
Date Modified - December 4, 2017