Cinnabon Nutrition, Prices & Secret Menu [Upd. Dec 2023]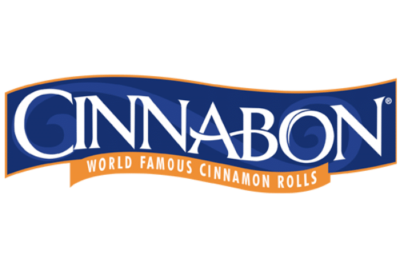 Cinnabon is home to "World Famous Rolls", a much-loved treat that you can find throughout the United States and in locations around the world. Cinnabon has been baking delicious cinnamon-sprinkled treats for more than 30 years now and there are locations in over 20 countries around the world.
Year Founded: 1985
Founding Location: Seattle, Washington
Slogan: "World Famous Cinnamon Rolls"
Cinnabon own a number of shops and kiosks, and are often located in high traffic areas. The smell of Cinnabon wafting through the air is enough to drive any mall or high-street shopper to hunger, which is why so many of us are addicted to these warm, tasty rolls.
Cinnabon History
Cinnabon began life as a spin-off of the restaurant chain Restaurants Unlimited, before eventually becoming the biggest part of this company. The two men behind the first Cinnabon location were Rich Komen and Ray Lindstrom. They had the idea and the desire, and they eventually hired Jerilyn Brusseau to create the recipe for the famous Cinnabon roll.
The first Cinnabon location opened its doors in Washington in 1985, located in The Commons at Federal Way mall, which was then known as SeaTac Mall. It proved to be a huge success from the start. Cinnabon were able to capture a lot of passing trade with the promise of fresh food, as everything was baked in store.
Just a year after the first Cinnabon launched, they signed off on their first franchise in Philadelphia. More franchise stores followed as the Cinnabon brand continued to grow. It took 6 years before they opened their first store outside of a mall. These days you can still find most Cinnabon locations inside malls and heavily populated hopping areas.
Cinnabon has changed ownership a few times. In 1998 it was sold for $65 million to AFC Enterprises, who currently own the Popeyes chain. It would later be sold to Focus Brands, who also own Moe's Southwest Grill, Auntie Anne's and Carvel.
Cinnabon and the American Dream
The hugely successful Kat Cole worked her way up from the bottom and is now one of the most successful businesswomen in the United States.
Cinnabon embodies a lot about the American Dream and about American culture in general. It can be found in shopping malls up and down the country, and these massive centers play a huge role in modern American life. But there is also an interesting, surprising and inspiring story within the ranks of Cinnabon.
Kat Cole began working as a server at Cinnabon a number of years ago. Like so many servers before her, she was working for a low wage, hoping that things would get better. But they did. So much better, in fact.
Because when she was just 35 years old, Kat was promoted. She achieved the rank of President and COO within the Cinnabon organisation. This is an amazing story, and one that is sure to inspire servers everywhere, not just those in Cinnabon. Kat was able to go from the bottom to the top, and at the time of writing, that's where she remains.
Cinnabon Menu
A tasty threesome from Cinnabon.
If you haven't tried Cinnabon, you're in for a treat when you first sink your teeth into one of these freshly baked rolls. The cinnamon flavor is not as intense as you might think, and is more of a light dusting than anything else. Still, it's something that the founders spent a lot of time on, actively scouring the world to find a cinnamon that was light, mild and fine enough to work. They found what they were looking for in a cinnamon sourced from Indonesia. They have been using this unique ingredient since the beginning.
The main menu items at Cinnabon are the cinnamon rolls. This is what most of their customers come for, and you can buy in singles or by the box. There are a few other items as well and there have also been items that were tried for a limited time and then discontinued. Such was the case with the range of cupcakes that they launched in 2000. But everyone can do cupcakes, and only Cinnabon can do cinnamon rolls, so that's where their main focus is and should remain.
Cinnabon Secret Menu
The Cinnabon secret menu is not the biggest out there, but there are still a few extra items to explore, and ones that very few customers know about. One such item is the Cinnabon Vodka, which was created by Pinnacle and is discussed at length in our Cinnabon secret menu page.
That's not all either, as there are a few other items to explore. Many of these are baked goods, but like the Cinnabon Vodka, but there are also goods that have worked their way into the retail world.
Cinnabon Nutrition and Calories
Coffee and treats from everyone's favorite pastry maker.
The aptly named Cinnamon Classic is one of the most popular items on the menu at Cinnabon. But once you find out just how much fat, sugar and calories it contains, you might opt for another menu item.
If you're of a nervous disposition then turn away now, because there are close to 900 calories in this menu item! And at 36 grams of fat, you're eating something that is equivalent to three donuts from Dunkin' Donuts or Krispy Kreme. As for the sugar, there are 59 grams in total. This is around half of the RDA for a man and two thirds for a woman.
Cinnabon Menu Prices
You can pickup a Classic Cinnamon roll from Cinnabon for less than $4, depending on the region and country you're in. You need to pay a little more for some of their specialty rolls, but you can get a Minibon for even less, coming in at around $2.80.
For a box of half a dozen Classic Rolls you'll get a little change from $18, whereas a box of 15 Minibon rolls will cost you $21.99. Drinks cost anywhere from $2 to $5, with a selection of hot drinks and cold drinks available.
To see more Cinnabon menu prices, read our guide on the subject. You will find every single menu item, as well as all of the prices.
Cinnabon Location
A box of treats from an international Cinnabon store.
The tactic of setting-up shop in shopping centers and other high traffic areas in also utilized outside of the United States. In the United Kingdom, for instance, there are franchise locations in the West One shopping center in Oxford and the Lakeside shopping center in Essex. There is also one in the Windsor Legoland resort. Proving that where there is a lot of traffic, there will be a Cinnabon. As with the US locations, these shops are small, more like kiosks than restaurants, which allows them to minimize their rent payments and focus on the profits.
Cinnabon is in many other countries as well, from Cairo, Egypt, to Karachi, Pakistan. There is also one in Libya, which became the first US franchise to open after the reign of Colonel Gaddafi ended in 2011.
Brunei
Canada
Colombia
Cyprus
Egypt
Greece
India
Japan
Libya
Malta
Malaysia
Mexico
Pakistan
Peru
Philippines
Poland
Russia
Saudi Arabia
South Africa
United Arab Emirates
There was also a Cinnabon location in Israel, but that closed in 2014.
Cinnabon Store Hours
The store hours are usually dependant on the shopping center or resort. Many of them will open when the mall opens and close when it shuts. This isn't always the case. But if the mall is open, you can probably assume that the Cinnabon will be open as well.
Date Modified - December 4, 2017