Baskin-Robbins Nutrition Info & Calories [Updated Dec 2023]
We don't want to be the bearers of bad news, but ice cream is not healthy. Still, it's not the end of the world. There are lower-lower calorie alternatives available, and in this Baskin-Robbins nutrition info page we'll take a look at them.
Below you will find an updated guide on all Baskin-Robbins calories and other nutrition information. This is updated regularly and contains a selection of ice cream flavors, as well as sundaes, shakes, drinks and everything else you can find at this popular ice cream chain.
This way you can work out how much ice cream you can have on your diet, without omitting this treat altogether. Because life just isn't the same without ice cream.
How Many Flavors Does Baskin-Robbins Have?
Baskin-Robbins have used the number "31" a lot. They would have you believe that they have 31 flavors, but that's not quite true. It's just a tagline, a part of several of their slogans and a way for them to claim that they have a new flavor for every day of the month. The truth is, if they had all previous and current flavors on the same Baskin-Robbins menu then they would have in excess of 1,000 flavors
Never mind 1 for each day of the month, that's more than enough to have 3 per day for an entire year! Although, that doesn't quite have the same ring to it, does it?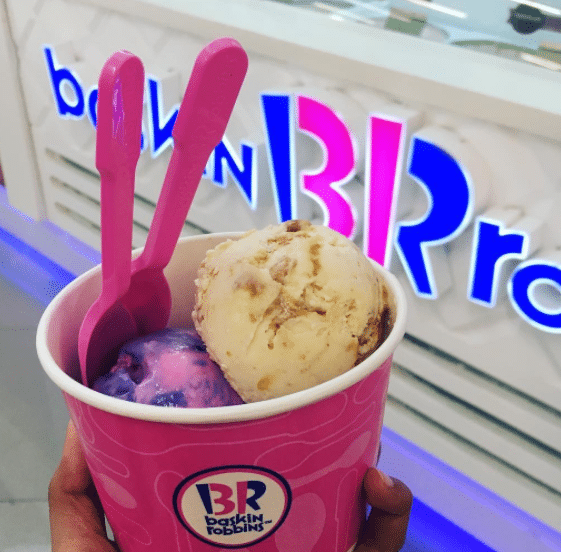 Baskin-Robbins Strange Flavors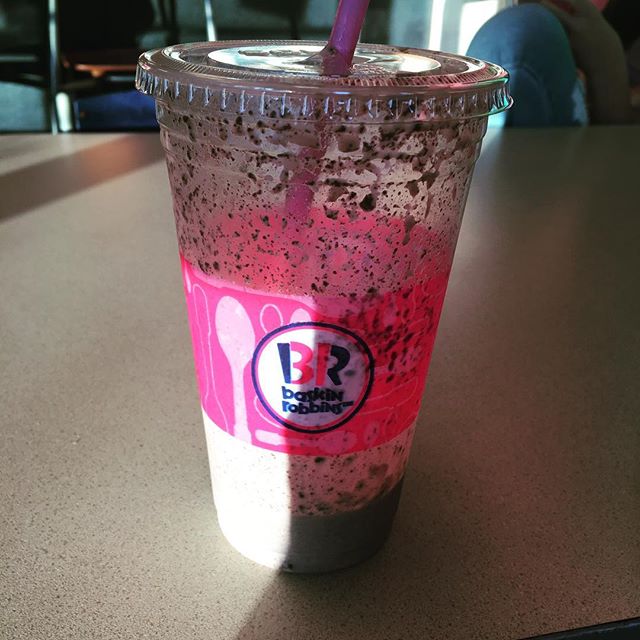 A Baskin-Robbins shake filled with crushed Oreo cookies. This particular shake was made to the customer's specifications.
You have probably tried some of these flavors yourself. For instance, the Butterfinger and Oreo flavors, as well as many of the other candy flavors, were not grouped in the original 31. The same goes for all of the following flavors, which are a little less typical and a little more unusual.
French Toast Ice Cream:
This has been listed as a "Flavor of the Month" before and it one of the nicer flavors on this list. If you like to add a dollop of ice cream to French toast or waffles, then this is the perfect flavor for that. It has that savory-sweet tang to it and is loaded with maple syrup.
Bubblegum:
Huff Post once listed this flavor as one of the worst of all time. If you ask us, that was a bit of an exaggeration. Their reasoning was that bubblegum should be chewed and not eaten. Maybe true, but ducks should fly, yet they still taste great with a little orange sauce; bacon should be eaten with eggs, but it goes just as well with maple syrup and pancakes. It's all about the flavor, and if you like bubblegum, you'll love this.
Cotton Candy:
Huff Post also included this flavor on their list. The reasons were the same, and while we don't agree with those, we'd agree that this is not a nice flavor. It's far too sweet and it doesn't look very appealing either. If you spend the morning drinking blue/green cocktails, the afternoon drinking Pepto-Bismol and the evening vomiting, we imagine this is what your vomit would look like. Although, if that's how you spend your days, then off-color, super-sweet ice cream is the least of your worries.
Green Tea:
This is one of their regional-specific flavors. It was created for some of their eastern locations, appealing to the locals with a flavor they thought they would appreciate. We're not quite sure how popular it was. But green tea is supposed to be light, fragrant and gentle, and those are words that don't sync up with ice cream.
Beatle Nut, Baseball Nut:
Baskin-Robbins don't just create new flavors for new store openings. They have also created flavors to tie-in with current events. Their Beatle Nut flavor was created when the Beatles came to tour the US for the first time, while Baseball Nut was created to coincide with the Dodgers baseball team moving to LA.
Lunar Cheesecake:
The name of this flavor is just as random as the taste. We're not quite sure if they were trying to get a "Googlewhack", or if this is the name of their high-school parody band, but it doesn't make sense. Cheesecake can work really well as an ice cream flavor, but not in this case.
Baskin-Robbins Coupons

We're not big fans of coupon sites. They have their uses, there is no doubt about that, but they are few and far between. Too many invalid codes; too many "offers" and "deals" that are neither one nor the other. It's not uncommon to see offers like "free delivery above orders of $x" or "free drink when you spend $10" even though these are staples that the company has always done.
Instead, the best way to find Baskin-Robbins coupons and other deals is on relevant food holidays, public holidays and other special days. They are out in full force during these days. You might think that a brand like Baskin-Robbins doesn't need to offer coupons. After all, if people want a cold treat they'll go to Baskin-Robbins, simple. Except, that's not true. There are a great number of competitors out there, everyone from big brands like Dairy Queen, to up-and-comers like Cold Stone Creamery, and to independent stores.
All of those stores are vying for your business and they make chains like Baskin-Robbins very self-confident. They worry that you'll pick their rivals and not them, so they offer all kinds of promotions in order to convince you to do otherwise.
If all else fails, just tell the servers it's your birthday! Usually works to get some freebies or a discount.
Baskin-Robbins Cake Coupons
Telling Baskin-Robbins that it's your birthday to get some cake coupons is not going to work. After all, most people buying cakes have a birthday coming up. For this, there isn't really a food holiday either, certainly not one that Baskin-Robbins pay any attention to.
Your best bet is to check the social media pages and see what the brand is doing. The cakes are not as popular as the ice creams, especially during hot days and off-peak time. Everyone is there to buy ice cream and that can leave the cakes souring in the back room. So, they are more inclined to create offers in order to get rid of them. Pay attention to their social media pages at the height of summer and on the days when everyone is out in full force and you might just see some Baskin-Robbins cake coupons.
Looking for the nutrition facts for everything on the Baskin-Robbins menu? We have the serving size, calories, fat, protein and carbs for just about every item that Baskin-Robbins offers.
To start, we've sorted their food offers into categories: .
Is there a menu item from Baskin-Robbins that we're missing, or you'd like to see? Let us know!
Date Modified - 11/01/2023