Kentucky Fried Chicken (KFC) Secret Menu Items [Updated Nov 2023]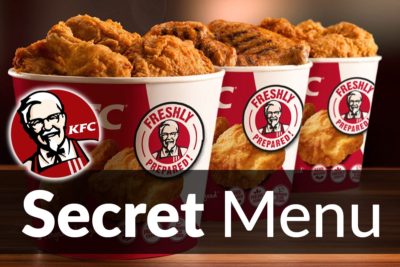 The KFC secret menu is of particular interest, because KFC already boasts such a rich, hearty KFC menu. Taking their greasy favorites to another level requires some additional kick, and the secret menu delivers, offering customers (that know about the KFC secret menu, of course) options like the Triple Down or tantalizing extras you didn't know were available. The rest of these irresistible secret menu items are below for you to find something new to try before your next KFC visit.
The KFC secret menu is perhaps best known as the place that you can find a chicken burger where the fillings and the bun are made out of chicken. There is much more to this secret menu though. It might not be the biggest or the best that we have covered here on Secret Menus. But it ranks up there and when you focus purely on fried chicken chains, nothing else comes close.
Let's get some of the basics out of the way first by showing you some favorite KFC secret menu items that can help you to cut calories and to get a healthy feast at a chain not exactly well known for serving healthy food.
Date Modified - 10/27/2023